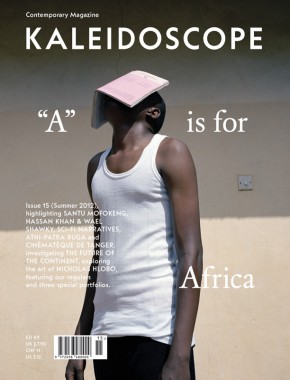 KALEIDOSCOPE Magazine 15, "A" is for Africa
Summer 2012 — Africa Special Edition
Softcover, 202 pp., offset 4/4, 220 x 287 mm
ISSN 2038-4807
Published by KALEIDOSCOPE Press
$12.00 · out of stock
Editor-in-Chief Alessio Ascari and art directors OK-RM are pleased to announce that KALEIDOSCOPE's summer issue is a special edition entirely devoted to art produced in (or related to) the African continent today. In a time when the once-dominant western model is collapsing, the impressive growth of Africa's economies looks likely to continue and its cultural offer is growing more and more vibrant, exposing the international audience to an incredible offering of art, music, architecture, film, design and fashion. This issue intends to be the most up-to-date and thorough exploration of the African scene of contemporary art and culture, from Egypt to South Africa via Ethiopia and Nigeria, conducted in collaboration with a dream team of both international contributors and influential thinkers and practitioners working in and around Africa today.
HIGHLIGHTS
Santu Mofokeng by Philippe Pirotte; Hassan Khan and Wael Shawky by Shahira Issa; Sci-Fi Narratives by Nav Haq and Al Cameron; Athi-Patra Ruga by Linda Stupart; Cinématèque de Tanger by Omar Berrada.
MAIN THEME — The Future of the Continent, Continent of the Future
Art by Nana Oforyatta-Ayim; Cinema by Olufemi Terry, Frances Bodomo, Jean-Pierre Bekolo and Mahen Bonetti; Music by Benjamin Lebrave; and Urban Planning by Antoni Folkers.
MONO — Nicholas Hlobo
Interview by Sean O'Toole; Essay by Tracy Murinik; Focus by Liese van deer Watt.
REGULARS
Futura: Lynette Yiadom-Boakye by Hans Ulrich Obrist; Panorama: Invisible Borders by Emmanuel Iduma; Souvenir d'Italie: Massimo Grimaldi by Luca Cerizza; On Exhibitions: "African Negro Art" by Paola Nicolin; Producers: Elvira Dyangani Ose by Carson Chan.
SPECIAL PORTFOLIOS
Viviane Sassen, Rotimi Fani-Kayode and Namsa Leuba.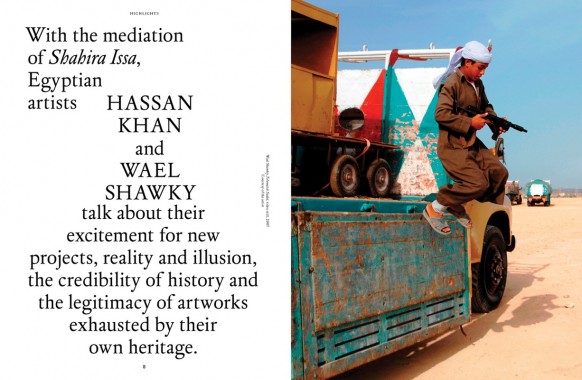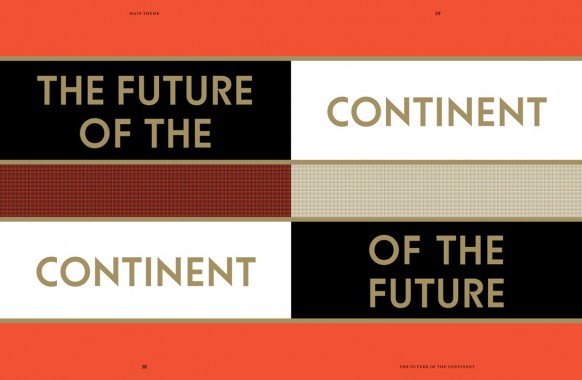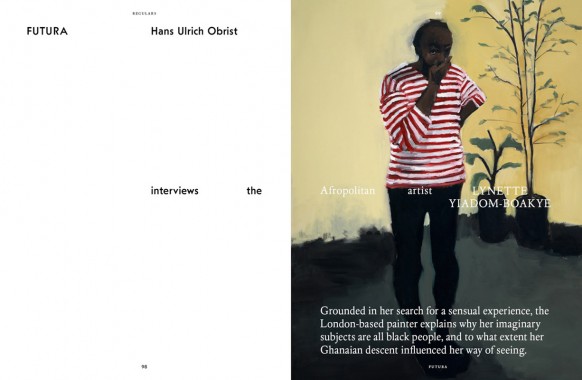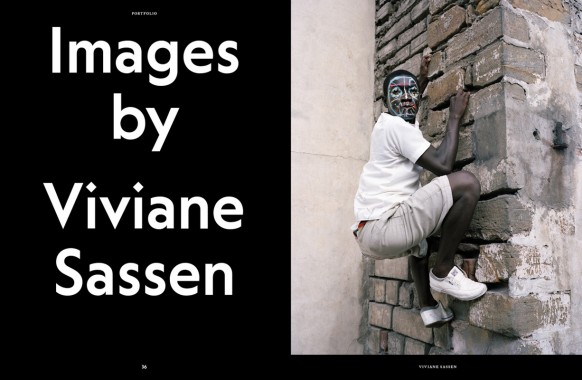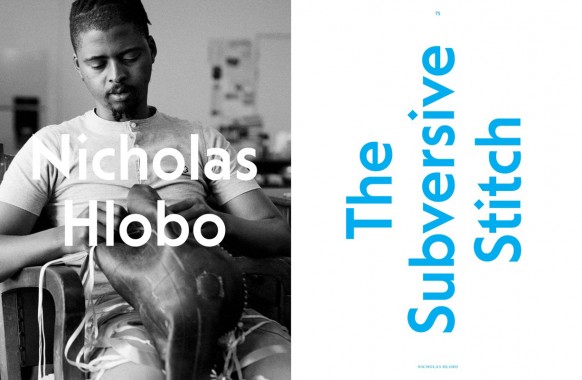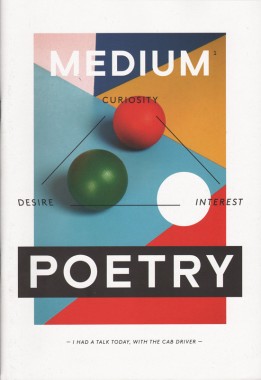 Medium 1, Poetry
Softcover, 64 pp., offset 4/4, 165 x 240 mm
Edition of 500
Published by Nieves
$14.00 · out of stock
Today there was a guy leaning the wrong way in the tube. It was not immediately noticeable. There was no one else sitting nearby. No other passengers to compare him to. But then I did notice that every time the carriage came to a stop, he leaned away from the direction we were moving. Very slightly. Think about it. You're supposed to lean forward. In the direction you were moving toward. Toward the point which the weight of your body was expecting to reach. Now this guy, he leans the other way. Just slightly. As a friend of mine would put it, he has a great sense of irony. Definitely. That's important in life. They say that Rothko, he killed himself because he met the people who bought his art. No sense of irony. Me neither I don't have any sense of irony. I like to take things at face value. Your wife she once told me that what led to the demise of the Black Panthers, aside from the absence of trust, and a murderous governmental incarceration campaign, it was their complete lack of a sense of humor. It was only much later that I realized she meant a murderous governmental incarceration campaign is actually a lot worse than not having a sense of humor. But these ironies are lost on me. Your sister and your wife they both say so. When I tell them things I find funny, they rarely laugh. I'm not even going to mention this guy in the tube to them. I recently told them about my bathroom sink in this hotel room. Real bad design. Flat. Which meant the liquid always accumulated in the corners. Instead of flowing down the drain. You had to use your fingertips to fish out the shaved hair stubble from the corners of the sink. Or it would just lie there. Waiting. You know what's even funnier: you had to try and propel what you spat out when you brushed your teeth towards the center of the sink. Or you'd have mounds of mucus and toothpaste. Just drying in small heaps, here and there. Hilarious. And speaking of heaps of mucus. Another thing I'll keep to myself – this was the funniest thing in years: I saw an old couple smooching in the street the other day. How often do you see that. Teenagers, yes. Or oldies arm in arm. But here you had oldies with their tongues down each other's throats. Right there in the pedestrian zone. Eighty years old maybe more. Couldn't believe it. I just stood there laughing. These oldies have no sense of humor either. They pretended not to hear me. But I could tell they heard me perfectly well. So now the carriage starts moving again, and I stand up, knowing I'll exit at the next station. You see there are things I'm less sure about. Are they funny or just poetic. Lately my eyeballs scrunch as I close my eyes. A crunching sound. Brief, almost imperceptible. The sound is a bit like high-tech mechanics when they start aging. Wearing out. A whispering scrunching sound. Funny, or lyrical? Now as I exit the carriage, I notice there's vapor in the air as I breathe, despite the high temperatures. It's been like this all week. Again, very odd and almost funny. In a tiny, barely noticeable kind of way. Like the guy leaning the wrong way back there. As the doors slam shut, I turn around to look for him. I want to see which direction he's leaning in as the train departs. Before I can assess his movements, he smiles and waves. I wave, but I fail to smile back. It's just not funny anymore.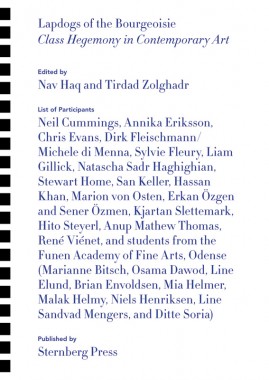 Nav Haq and Tirdad Zolghadr, Lapdogs of the Bourgeoisie
Softcover, 180 pp., offset 4/1, 170 x 240 mm
Edition of 2000
ISBN 978-1-933128-88-7
Published by Sternberg Press
$25.00 ·
Class inevitably raises awkward questions for the protagonists of contemporary art — about their backgrounds, patrons and ideological proclivities. Lapdogs of the Bourgeoisie investigates this latent yet easily overlooked issue, which has been historically eclipsed by gender, sexuality, ethnicity and nationality. This book creates a conversation on a sensitive subject, bringing together essays by art-world types including artists, curators and critics. On one hand, the ideas here raise the question of whether a given socio-economic background still helps define an artistic career — and to which point this career might reflect or consolidate the hierarchies in question. On the other hand, the project asks whether the traditional ways of analyzing class structure are actually helpful in an examination of who makes art today.