C Magazine 119, Residencies
Softcover, 64 pp., offset 4/1, 210 x 295 mm
Edition of 2200
ISSN 1480-5472
Published by C Magazine
$7.50 ·
Issue 119 includes feature essays by Laura Kenins on "Escapists and Jet-Setters: Residencies and Sustainability", Stephanie Springgay on "The Pedagogical Impulse: Aberrant Residencies and Classroom Ecologies," and Randy Lee Cutler on the 55th Venice Biennale, as well as Sky Goodden in conversation with Wanda Koop and an interview by Amish Morrell with Shinobu Akimoto and Matthew Evans. C119 also includes an artist project by the Nomadic Residency Council and the collaborative project "love takes the worry out of being close: public assemblies in bed with queers"; book reviews and reviews of exhibitions by Kara Uzelman, Sara Angelucci, David Askevold, Bernadette Corporation and more.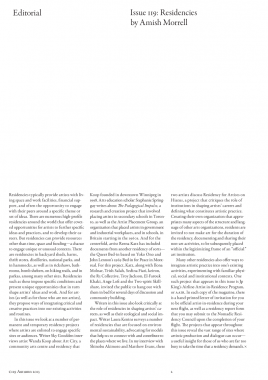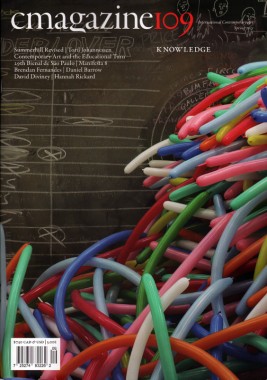 C Magazine 109, Knowledge
Softcover, 56 pp., offset 4/1, 210 x 295 mm
Edition of 2200
ISSN 1480-5472
Published by C Magazine
$7.50 ·
Issue 109 of C Magazine, Knowledge, includes an essay by Jen Kennedy, School's In: Contemporary Art and the Educational Turn, that examines Jennifer Dalton and William Powhida's #class, Anton Vidokle's unitednationsplaza and Night School, and projects recently conducted at the Copenhagen Free University, and a feature article by Sholem Krishtalka, "You and Me and Her and Us and Them: A Conversation on Using and Being Used," about collaborating with novelist Sheila Heti and painter and filmmaker Margaux Williamson. This issue also includes an interview by Mandy Ginson with Toril Johannessen, exploring some of the ways Johannessen engages scientific methods of analysis and models of classification and display in her work, as well as two artist projects; Summerhill, Revised, by Helen Reed and Hannah Jickling with an accompanying text by Stephanie Springgay, and Studies for Possible Futures by Maggie Groat. Issue 109 also includes reviews of the 29th Bienal de São Paulo and Manifesta 8, as well as book reviews and exhibition reviews from cities including Fredericton, Halifax, Hamilton, Ottawa, Toronto and Vancouver.