fillip 15
Softcover, 176 pp., offset 2/1, 170 x 245 mm
Edition of 2500
ISSN 1715-3212
ISBN 978-0-9868326-5-9
Published by Fillip
$15.00 ·
Fillip is a publication of art, culture, and ideas released three times a year.
Fillip 15 initiates a new, ongoing series of texts entitled Apparatus, Capture, Trace examining the links between biopolitics and photography. The series opens with essays by Saul Anton on Osama bin Laden and Gabrielle Moser on the work of Jon Rafman, alongside an introduction by series editor Kate Steinmann.
The issue continues essays from the Intangible Economies series, which is the focus of a three-day forum co-organized by Artspeak. Presenting speakers include Melanie Gilligan, Hadley+Maxwell, Candice Hopkins, Olaf Nicolai, Monika Szewczyk, and Jan Verwoert, as well as series editor Antonia Hirsch. The event will be broadcast worldwide on Livestream.
The issue also investigates WikiLeaks: Axis of Reputation, a research-based project by Metahaven produced in conjunction with Fillip 15. Part of Metahaven's ongoing Transparency, Inc. (2010–), the work interrogates the constantly fluctuating image politics of the online whistleblower Web site WikiLeaks.
1. Christian Hänggi on Stockhausen and 9/11
2. Christian Nagler and Joseph del Pesco on curating and algorithms
3. Chris Fitzpatrick and Post Brothers on parasitical practices
4. Christina Linden on survivalism and sustainability
5. Peta Rake on artist-run initiatives in Brisbane
6. Plus a Criticism Roundtable with Julian Myers, Tara McDowell (the Exhibitionist), and Alexander Provan (Triple Canopy), among others
Alexander Provan, Antonia Hirsch, Art, Artspeak, Candice Hopkins, Christian Hänggi, Christian Nagler, Christina Linden, Distribution, Fillip, Gabrielle Moser, Hadley+Maxwell, Jan Verwoert, Jon Rafman, Joseph del Pesco, Julian Myers, Kate Steinmann, Melanie Gilligan, Metahaven, Monika Szewczyk, Olaf Nicolai, Osama bin Laden, Peta Rake, Politics, Post Brothers, Saul Anton, Tara McDowell, Triple Canopy, WikiLeaks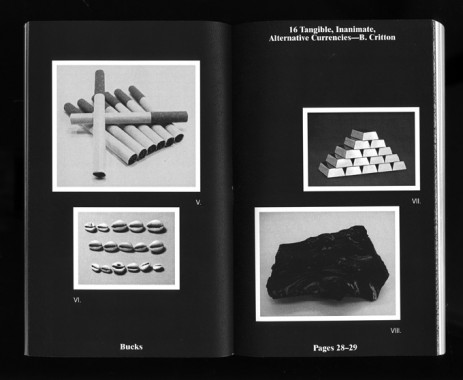 The Book Trust Prospectus
Edited by Benjamin Critton, Harry Gassel, Brendan Griffiths, Zak Klauck and Mylinh Nguyen
Softcover, 160 pp., offset 1/1, 4.25 x 7 inches
Edition of 500
ISBN 978-1-928570-15-8
Published by IFS, Ltd.
$19.10 ·
The Book Trust, a site-specific publication and installation, was originally presented at the NY Art Book Fair, 5–7 November, 2010. During those days, the semi-fictional
Investment Futures Strategy, Ltd.
, comprised of five graduate students from the Department of Graphic Design at the Yale University
School of Art
, offered an original publication for trade in a series of barters executed by its authors.
The Trust and the accompanying Book Trust Prospectus address matters of micro-economy and distribution, as well as prescribed versus perceived value. The project suggests a new currency specific to the setting of the Book Fair, a context in which a distinct set of commodities is exchanged by like-minded vendors in a finite space and time. It is only in this setting that a book could be posited as capital — a literal stand-in for the money that commonly exchanges hands at the Fair. Perceived worth is thus no longer dictated by edition or price, but instead by a trader's subjective notion of the values they assign each book.
Over the three days of the Fair, the book, produced in a fixed quantity of 500, varied in value as each negotiation determined and redetermined its worth in the marketplace. With each transaction, the Prospectus assumed the value of the book for which it was exchanged. The traded commodities now comprise The Book Trust — a value-appreciating book bank. By trading with IFS, Ltd., participants acquired a single theoretical share of the bank, the Prospectus acting as a document of that transaction. In framing the project in a format similar to that of a stock exchange, IFS, Ltd. hopes that the Trust emphasizes the tenuous, abstract value of the book: as a designed object, as a medium for content, as a traded commodity, and as a symbol of participation in the project itself.
Prospectus
The Book Trust Prospectus is, in non-equal parts: a local currency, a stock prospectus for The Book Trust, an exploration into the nature of small-scale publishing and its presence at the NY Art Book Fair (R. Giampietro), a survey of precedented alternative currencies (B. Critton), a platform for hyperbolic re-representations of anonymous fiat money (R. Rozendaal), a foray into corporate branding and rebranding (Metahaven et al.), a proposal for a time-based repurposing of existing banknotes (N. Hirsch & Z. Kyes), an analysis of the current state of [art] book-publishing and -design (L. v. Deursen et al.), a venue for research into non-essential commodity futures like tulips and Beanie Babies™ (H. Gassel), a profile of independent art book vendors (Golden Age), and a podium for experimentation with anti-counterfeiting guilloché renderings (B. Griffiths & Z. Klauck). It is the story of its own making and financing as well as an evaluation of the context in which it was made and financed. The Prospectus is a 160-page, perfect-bound, one-colour book, offset-printed in an edition of five hundred by GHP printing in West Haven, Connecticut, USA.
Alexander Rives, Art, Benjamin Critton, Brendan Griffiths, Business, Design, Distribution, Golden Age, Harry Gassel, IFS Ltd., Linda van Deursen, Metahaven, Mylinh Nguyen, Nikolaus Hirsch, Rafael Rozendaal, Rob Giampietro, The Book Trust, Typography, Yale University School of Art, Zak Klauck, Zak Kyes