fillip 14
Softcover, 112 pp., offset 2/1, 170 x 245 mm
Edition of 2500
ISSN 1715-3212
ISBN 978-0-986832-4-2
Published by Fillip
$15.00 ·
Fillip is a publication of art, culture, and ideas released three times a year.
1. Series: Intangible Economies
2. Markus Miessen et al. Architectural Space as Agent
3. Vector Association and Kristina Lee Podesva Via Satellite
4. Diedrich Diedrichsen Living in the Loop
5. Michael Turner and Reid Shier Upon Further Reflection
6. Amy Zion Ascetic Desire
7. Kathy Mezei Shadows and Blind Spots
8. Ahmet Ögüt and Berin Golonu Between the Scaffold and the Ruin
9. End Matter: Commission: David Horvitz, Scotch Broom
fillip 13, Intangible Economies
Softcover, 116 pp., offset 4/1, 170 x 245 mm
Edition of 2000
ISSN 1715-3212
Published by Fillip
$15.00 ·
Fillip 13 introduces
Intangible Economies
, a new, ongoing series broadening the notion of economy beyond its financial dimensions. The series focuses on the multifarious forms of exchange fuelled by affect and desire, speculatively investigating the fundamental role these affective transactions play in modes of representation and, accordingly, in cultural production.
This issue includes series texts by Candice Hopkins, Jan Verwoert, and series editor Antonia Hirsch. Forthcoming installments will include contributions by Hadley+Maxwell, Olaf Nicolai, and Monika Szewczyk, among others.
The issue also features a record of The AAAARG Library, a site-specific installation commissioned for Fillip 13 and the 2010 NY Art Book Fair. The Library, produced by artist Sean Dockray and curated by Jeff Khonsary, will be presented again this summer as part of Night Market, a Red76 project for the Massachusetts Museum of Contemporary Art in North Adams, MA.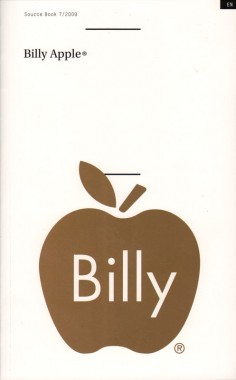 Zoë Gray, Nicolaus Schafhausen and Monika Szewczyk, Billy Apple
Softcover, 112 pp., offset 4/1, 125 x 200 mm
Edition of 1000
ISBN 978-90-73362-89-5
Published by Witte de With
$15.00 · out of stock
Billy Apple was created in 1962 as a work by the New Zealand-born artist Barrie Bates, who changed his name to become a living brand after graduating from London's Royal College of Art. For this volume, four writers combine to discuss the brand, providing a chronology, a contextualization of Apple's practice within institutional critique and his enduring significance for younger generations.