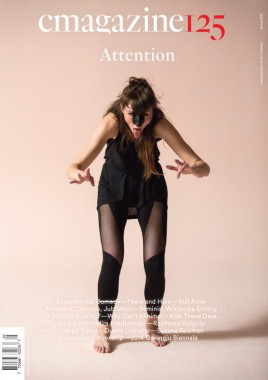 C Magazine 125, Attention
Softcover, 76 pp., offset 4/1, 210 x 295 mm
Edition of 2200
ISSN 1480-5472
Published by C Magazine
$7.50 ·
C Magazine Issue 125 ATTENTION — includes Features by Shannon Anderson on An Te Liu; Mark Clintberg on the still life in the work of Celia Perrin Sidarous and Peter Morin; Kari Cwynar on Experimental Comedy Training Camp; Cameron Hu on GCC and geopolitical style; and Godfre Leung on attention, oblivion and jubilation in the work of Jeremy Shaw. Issue 125 also includes Artist Projects by Raymond Boisjoly and Duane Linklater, On Writing by Art + Feminism, Exhibition Reviews of Joseph Tisiga, Is Toronto Burning?, Why Can't Minimal?, Susana Reisman, Jasmina Cibic, Kids These Days, Queering Citizenship, Burning Down The House and Mira Friedlaender, as well as Book Reviews of Daniel Albright's Panaesthetics and David Balzer's Curationism, and Inventory by Kitty Scott.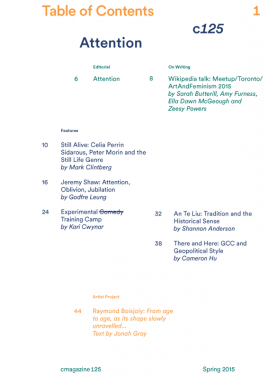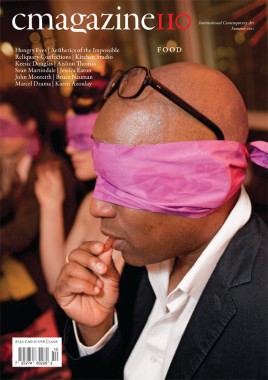 C Magazine 110, Food
Softcover, 57 pp., offset 4/1, 210 x 295 mm
Edition of 2200
ISSN 1480-5472
Published by C Magazine
$7.50 ·
Issue 110 includes Mark Clintberg's essay Hungry Eyes: Feasting on Food Photography from elBulli and Beyond, Nicole J. Caruth's Kitchen Studio: A Recipe for Disaster, Leah Modigliani's Collaborating on Conceptual Art: An Aesthetics of the Impossible and Swapnaa Tamhane's The Performative Space: Tracing the Roots of Performance-Based Work in India. This issue also include an interview by Pandora Syperek with Fiona Kinsella and artist projects by Keesic Douglas and Aislinn Thomas. The reviews section includes writing about exhibitions and projects by Karen Azoulay, Marcel Dzama, Jessica Eaton, Sean Martindale, John Monteith, Bruce Nauman, Cady Noland and Diane Arbus, Douglas Scholes and Hide/Seek: Difference and Desire in American Portraiture at the National Portrait Gallery in Washington D.C.
fillip 8
Softcover, 28 pp. + three posters, offset 1/1, 12 x 18 inches
Edition of 1500
Published by Fillip
$5.00 ·
Fillip is a publication of art, culture and ideas released three times a year by the Projectile Publishing Society from Vancouver, British Columbia.