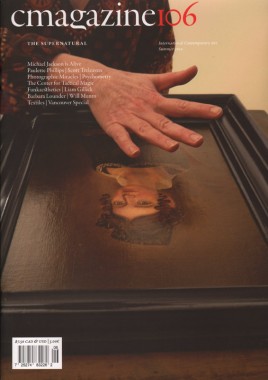 C Magazine 106, The Supernatural
Softcover, 64 pp., offset 4/1, 210 x 295 mm
Edition of 2000
ISSN 1480-5472
Published by C Magazine
$7.50 ·
Issue 106 includes feature articles by Jennifer Fisher on psychometry, Lynn Crosbie on Michael Jackson, and Louis Kaplan on Nate Larson's photographic miracles; David Lillington interviews Paulette Phillips, and Leah Modigliani interviews The Center for Tactical Magic; book and exhibition reviews from Antwerp, Chicago, Toronto, Edmonton, Victoria, Charlottetown, Stratford Ontario, McIvers Newfoundland and Ridgefield Connecticut, with a special section covering Vancouver during the 2010 Winter Olympics; artist project by Scott Treleaven, accompanied by an essay by Elijah Burgher.
fillip 8
Softcover, 28 pp. + three posters, offset 1/1, 12 x 18 inches
Edition of 1500
Published by Fillip
$5.00 ·
Fillip is a publication of art, culture and ideas released three times a year by the Projectile Publishing Society from Vancouver, British Columbia.