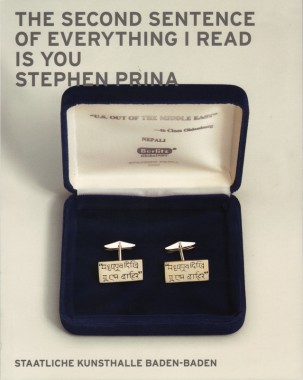 Stephen Prina, The Second Sentence of Everything I Read is You
Softcover, 176 pp., offset 4/4, 215 x 270 mm
Edition of 2000
ISBN 0-978-3-86560-512-2
Published by Walther König
$45.00 ·
Preface by Karola Grässlin.
Essays
The Great Persuader by Astrid Wege; How Far We've Come From The River, a conversation between Bennett Simpson and Stephen Prina.
Describing Conceptual artist and musician Stephen Prina's work in 2004, the Harvard Gazette wrote, "Prina's artwork is full of unsuspected surprises, secret compartments that pop open to release compressed bundles of meaning or coiling strands of narrative." His work at the 2008 Whitney Biennial, for example, was conceived as "a traveling spectacle — a mini-Broadway-musical-on-the-road or circus," according to the artist. This concise retrospective volume presents work from 1979 to 2008, as well as installation views of Prina's recent one-person exhibition at the Staatliche Kunsthalle Baden-Baden in Germany.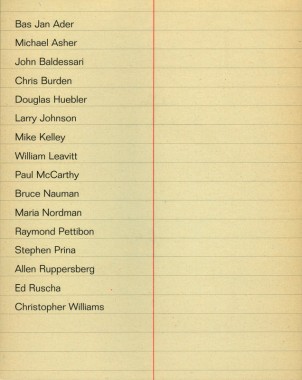 Gregory Williams, Art from Los Angeles: From the 60s-90s
Softcover, 48 pp., offset 4/4, 215 x 270 mm
English and German
Edition of 2000
ISBN 9783865603241
Published by Walther König
$26.00 ·
Since the 1960s, Los Angeles has been a hub for groundbreaking art. This slim volume features work by Bas Jan Ader, Michael Asher, John Baldessari, Chris Burden, Douglas Huebler, Larry Johnson, Mike Kelley, William Leavitt, Paul McCarthy, Bruce Nauman, Maria Nordman, Raymond Pettibon, Stephen Prina, Allen Ruppersberg, Ed Ruscha and Christopher Williams.