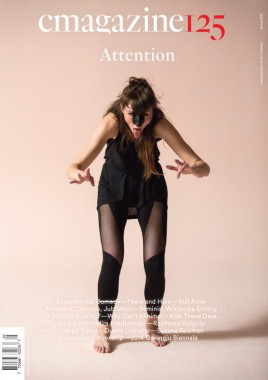 C Magazine 125, Attention
Softcover, 76 pp., offset 4/1, 210 x 295 mm
Edition of 2200
ISSN 1480-5472
Published by C Magazine
$7.50 ·
C Magazine Issue 125 ATTENTION — includes Features by Shannon Anderson on An Te Liu; Mark Clintberg on the still life in the work of Celia Perrin Sidarous and Peter Morin; Kari Cwynar on Experimental Comedy Training Camp; Cameron Hu on GCC and geopolitical style; and Godfre Leung on attention, oblivion and jubilation in the work of Jeremy Shaw. Issue 125 also includes Artist Projects by Raymond Boisjoly and Duane Linklater, On Writing by Art + Feminism, Exhibition Reviews of Joseph Tisiga, Is Toronto Burning?, Why Can't Minimal?, Susana Reisman, Jasmina Cibic, Kids These Days, Queering Citizenship, Burning Down The House and Mira Friedlaender, as well as Book Reviews of Daniel Albright's Panaesthetics and David Balzer's Curationism, and Inventory by Kitty Scott.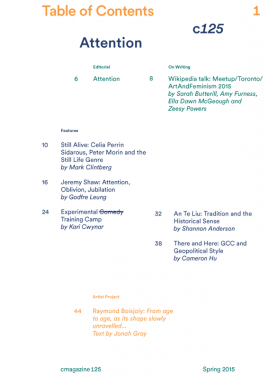 C Magazine 118, Criticism
Softcover, 60 pp., offset 4/1, 210 x 295 mm
Edition of 2200
ISSN 1480-5472
Published by C Magazine
$7.50 ·
Issue 118 includes feature essays by Adam Lauder on "Sensitivity Information", Charlene Lau on "Problems in the Evaluation of Contemporary Art", Stephen Horne on the "Doing(s) of Art Criticism", Ben Davis on "Surviving the Crisis", and Peta Rake on "Private Acts: Note taking in the Margins of Art Criticism", as well as Sky Goodden in conversation with Dave Hickey.
Artist Projects include Dave Dyment's Old Man Deciphering a Briefcase, and Charmaine Wheatley's The Painting is Better.
Also, in this issue, reviews from across Canada and around the globe: Rose Bouthillier on Julia Dault, Jessica Bradley Annex, Toronto; Heather White on Jimmy Limit: Show Room, Clint Roenisch Gallery, Toronto; Shannon Anderson on Volume: Hear Here, Blackwood Gallery, Mississauga; Kyla Brown on Peter Dykhuis: Inventories & Micro-mapping, Red Head Gallery, Toronto; Vanessa Parent: Invisible Violence, Artspeak, Vancouver; Gloria Hickey on Philippa Jones: MIRIAD, The Rooms Provincial Art Gallery, St. John's; Jane Affleck on Position As Desired, Canadian Museum of Immigration at Pier 21, Halifax; Daniella E. Sanader on Manuela Lalic: Activisme timide, Optica, Montreal; Jill Gleesing This Will Have Been: Art, Love & Politics in the 1980's, Institute of Contemporary Art, Boston; Jen Hutton on Jordan Wolfson: Raspberry Poser, REDCAT, Los Angeles; and Michael Davidge on Robert Tombs: L'Occupation, ParisCONCRET, Paris.
C118 also includes book reviews of The Last Art College: Nova Scotia College of Art and Design, 1968-1978, review by Leah Modigliani; West of Center: Art and the Counterculture Experiment in America, 1965-1977, review by Felicity Tayler; and Work Work Work: A Reader on Art and Labour, review by Amber Landgraff.
C Magazine 108, Money
Softcover, 64 pp., offset 4/1, 210 x 295 mm
Edition of 2200
ISSN 1480-5472
Published by C Magazine
$7.50 ·
C Magazine issue 108
Money
includes an artist project by Abbas Akhavan, where he has inserted a sheet of imitation gold leaf in each of 2,200 copies of C Magazine. Also available are 25 special limited edition magazines with gold leaf, signed and numbered by the artist.
Feature articles in issue 108 include Economies of Faith, by Richard Ibghy and Marilou Lemmens, looking at works by Mark Boulos, Melanie Gilligan and Olivia Plender that explore the relationship between the workings of the market and the spiritual belief, and Documents of Self-Administration: A Conversation with Vincent Bonin, by Adam Lauder, about the exhibition Documentary Protocols at the Leonard & Bina Ellen Gallery. This issue also includes interviews with British artist Spartacus Chetwynd, by David Lillington, and Canadian artist Divya Mehra, by Natasha Bissonauth.
Reviews include Shannon Anderson on Anselm Kiefer's Palmsonntag at the Art Gallery of Ontario; Saelen Twerdy on Projections: Music Video at Musée d'art contemporain de Montréal; Kenneth Hayes on Group ABS at Gallery Siz in Rijeka, Croatia; Vanessa Nicholas on Rivane Neuenschwander's A Day Like Any Other at the New Museum; Heather Diack on Annie MacDonell's Beside the Midnight Lake at Katharine Mulherin Contemporary Art Projects; Rebecca Weisman on Guy Ben-Ner: Thursday the 12th at Mass MoCA; Jill Glessing on Fernando Sánchez Castillo: National Episodes and Óscar Muñoz: Becoming Air at Círculo de Bellas Arte, Madrid; Michael Birchall on the 6th Berlin Biennale; and Evan Webber on Jon McCurley: Fashion Blog — Clothes for President.