Elmar Bambach, Martin Fengel, Jörg Koopman, Julia Marquardt and Birgit Vogel, Ort
Softcover, 56 pp., offset 4/1, 240 x 325 mm
Edition of 500
ISBN 978-3-00-032613-4
Published by Bücher & Hefte
$18.00 ·
A publication is published, accompanying the exhibition
Ort
at Rathausgalerie, Kunsthalle.
Photographs by Miriam Bäckström, Bennie Baumann, Linus Bill, Stefan Burger, Rudolf Cohen, Michael Danner, Paul Gerhard Diez, Uschi Huber, Iski Behörde, Geraldine Jeanjean, Mårten Lange, Peter Langer, M + M, Richard Mosse, Andreas Neumeister, Taiyo Onorato & Nico Krebs, Peter Piller, Johannes Schwartz, Heidi Specker & Theo Deutinger, Erik van der Weijde, Matthias Ziegler. Texts by Simon Bieling and Swantje Grundler.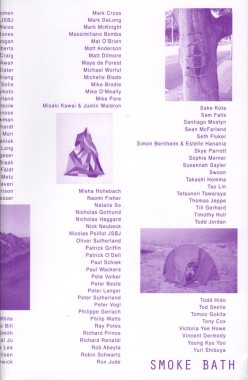 Peter Sutherland, Smoke Bath
Softcover, 328 pp., offset 1/1, 5.25 x 8 inches
Edition of 500
ISBN 978-0-98259360202
Published by Seems
out of print
Smoke Bath
is a collection of photographs and art work loosely based on the theme of camping, nature, and exploring.
The goal of Smoke Bath is to showcase the work of artists that are inspired by nature and raise money for freshair.org in the process. The Fresh Air Fund (freshair.org) is an independent, not-for-profit agency that provides free summer vacations to New York City children from low-income communities.