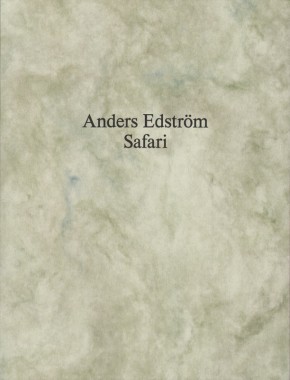 Anders Edström, Safari
Softcover, 32 pp., offset 4/4, 195 x 255 mm
Edition of 1000
ISBN 978-3-905714-58-6
Published by Nieves
$26.00 ·
In Anders Edstrom's Safari photographs, for instance, a slow, deliberate looking, a looking focused on a singular subject, a looking that by all appearances holds the outside world at bay, nonetheless reveals an image of openness one might better expect from street or landscape photography, genres bent by time, context, event, and change. But what changes in these Safari pictures? Do they have time or context? What is their world?
—Bennett Simpson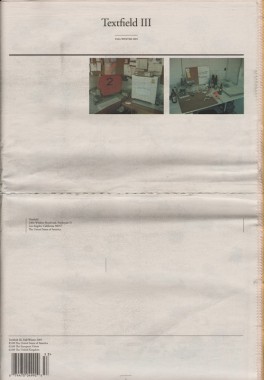 Textfield III
Folded/perforated, 56 pp., web offset 4/1, 11 x 17 inches
Edition of 1500
Published by Textfield
$10.00 ·
Contributors; Andreas Angelidakis, AUDC, Nina Jan Beier, Andrew Burgess, Claude Closky, Trinie Dalton, Johnny Freedom, Marie Jager, Peter Kim, John Knuth, Marc Kremers, Gonzalo Lebrija, Spencer Lee, Marie Jan Lund, Miltos Manetas, Giles Miller, Doreen Morrissey, Angelo Plessas, Lucas Quigley, Rafaël Rozendaal, Eduardo Sarabia, Anna Sew Hoy, Nikola Tosic, Kazys Varnelis, Michael Wells, Sandy Yang, and Amy Yao.