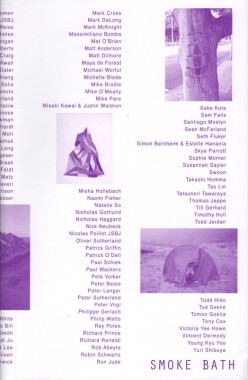 Peter Sutherland, Smoke Bath
Softcover, 328 pp., offset 1/1, 5.25 x 8 inches
Edition of 500
ISBN 978-0-98259360202
Published by Seems
out of print
Smoke Bath
is a collection of photographs and art work loosely based on the theme of camping, nature, and exploring.
The goal of Smoke Bath is to showcase the work of artists that are inspired by nature and raise money for freshair.org in the process. The Fresh Air Fund (freshair.org) is an independent, not-for-profit agency that provides free summer vacations to New York City children from low-income communities.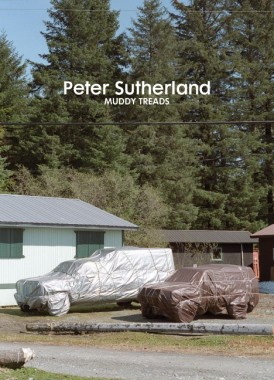 Peter Sutherland, Muddy Treads
Softcover, 36 pp., offset 4/1, 6 x 9.5 inches
Edition of 1000
Published by Seems
$16.00 · out of stock
There was a large chunk of land behind my junior high school known as "The Hills." It was an unclaimed no man's land, where you could do whatever you wanted. There were strange half built sheds, bags of lawn clippings, some illegally dumped furniture, and the occasional dead animal. Locals would go there to drink beer, burn stuff for fun, and drive four wheelers on the hills, some of which were steep and untracked.
Peter Sutherland, Game
Softcover, 60 pp., offset 4/4, 19.5 x 25.5 cm
Edition of 1000
Published by Nieves
$28.00 · out of stock
Photographs of Chinatown Soccer Club, NYC, 2003-2006. Published in conjunction with the exhibition Game by Peter Sutherland at MU, Eindhoven, the Netherlands.