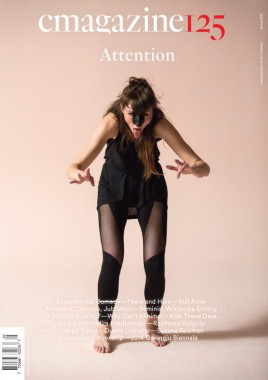 C Magazine 125, Attention
Softcover, 76 pp., offset 4/1, 210 x 295 mm
Edition of 2200
ISSN 1480-5472
Published by C Magazine
$7.50 ·
C Magazine Issue 125 ATTENTION — includes Features by Shannon Anderson on An Te Liu; Mark Clintberg on the still life in the work of Celia Perrin Sidarous and Peter Morin; Kari Cwynar on Experimental Comedy Training Camp; Cameron Hu on GCC and geopolitical style; and Godfre Leung on attention, oblivion and jubilation in the work of Jeremy Shaw. Issue 125 also includes Artist Projects by Raymond Boisjoly and Duane Linklater, On Writing by Art + Feminism, Exhibition Reviews of Joseph Tisiga, Is Toronto Burning?, Why Can't Minimal?, Susana Reisman, Jasmina Cibic, Kids These Days, Queering Citizenship, Burning Down The House and Mira Friedlaender, as well as Book Reviews of Daniel Albright's Panaesthetics and David Balzer's Curationism, and Inventory by Kitty Scott.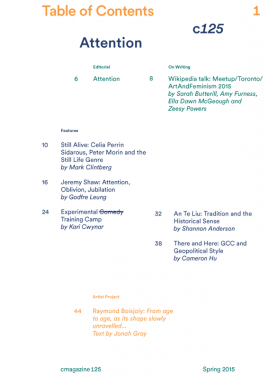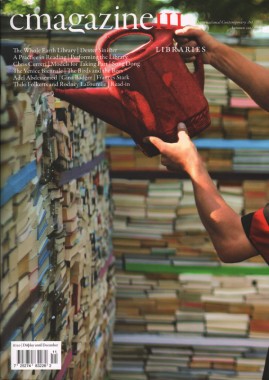 C Magazine 111, Libraries
Softcover, 60 pp., offset 4/1, 210 x 295 mm
Edition of 2200
ISSN 1480-5472
Published by C Magazine
$7.50 ·
Issue 111 Libraries includes features by Adam Lauder on Performing the Library; Jen Hutton on Dexter Sinister; David Senior on the Whole Earth Catalogue; Randy Lee Cutler on Reading; Pandora Syperek on ILLUMINnations: the 54th Venice Biennale; Jenifer Papararo on Frances Stark: I've Had it and a Half at The Hammer Museum, and an artist project by Read-in. Issue 111 also includes reviews of: Rabih Mroué: The Inhabitants of Images at Prefix ICA; Song Dong: Waste Not at the Vancouver Art Gallery; Gina Badger: Mongrels at Issue Project Room; Adel Abdessemed: The Future of Décor at OCAD Professional Gallery; Chris Curreri: Something Something at University of Toronto Art Centre; The Birds and the Bees at Oakville Galleries; The Domestic Queens Project at FOFA Gallery, Concordia, and Wim Botha: All Around at Galerie Jette Rudolf. Also included is a review by the 2011 C New Critics Competition winner Kari Cwynar on Models for Taking Part at Presentation House Gallery.