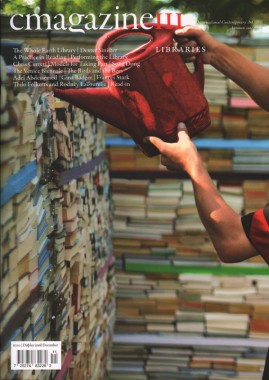 C Magazine 111, Libraries
Softcover, 60 pp., offset 4/1, 210 x 295 mm
Edition of 2200
ISSN 1480-5472
Published by C Magazine
$7.50 ·
Issue 111 Libraries includes features by Adam Lauder on Performing the Library; Jen Hutton on Dexter Sinister; David Senior on the Whole Earth Catalogue; Randy Lee Cutler on Reading; Pandora Syperek on ILLUMINnations: the 54th Venice Biennale; Jenifer Papararo on Frances Stark: I've Had it and a Half at The Hammer Museum, and an artist project by Read-in. Issue 111 also includes reviews of: Rabih Mroué: The Inhabitants of Images at Prefix ICA; Song Dong: Waste Not at the Vancouver Art Gallery; Gina Badger: Mongrels at Issue Project Room; Adel Abdessemed: The Future of Décor at OCAD Professional Gallery; Chris Curreri: Something Something at University of Toronto Art Centre; The Birds and the Bees at Oakville Galleries; The Domestic Queens Project at FOFA Gallery, Concordia, and Wim Botha: All Around at Galerie Jette Rudolf. Also included is a review by the 2011 C New Critics Competition winner Kari Cwynar on Models for Taking Part at Presentation House Gallery.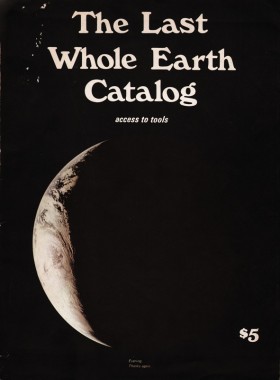 Stewart Brand, The Last Whole Earth Catalog
Softcover, 452 pp., web offset 1/1, 10.75 x 14.25 inches
First edition (1971)
ISBN 0-394-70459-20
Published by Portola Institute
$55.00 · out of stock
condition:
good
, edge wear, worn cover/spine, interior discolored, very good reference copy.
We can't put it together. It is together.
The Whole Earth Catalog is an American counterculture catalog published by Stewart Brand between 1968 and 1972, and occasionally thereafter, until 1998. Although the WECs listed all sorts of products for sale (clothing, books, tools, machines, seeds — things useful for a creative or self-sustainable lifestyle), the Whole Earth Catalogs themselves did not sell any of the products. Instead the vendors and their prices were listed right alongside with the items.
The title Whole Earth Catalog came from a previous project of Stewart Brand. In 1966, he initiated a public campaign to have NASA release the then-rumored satellite photo of the sphere of Earth as seen from space, the first image of the "Whole Earth." He thought the image might be a powerful symbol, evoking a sense of shared destiny and adaptive strategies from people. The Stanford-educated Brand, a biologist with strong artistic and social interests, believed that there was a groundswell of commitment to thoroughly renovating American industrial society along ecologically and socially just lines, whatever they might prove to be.
Function
The Whole Earth Catalog functions as an evaluation and access device. With it, the user should know better what is worth getting and where and how to do the getting. An item is listed in the Catalog if it is deemed:
1. Useful as a tool
2. Relevant to independent education
3. High quality or low cost
4. Not already common knowledge
5. Easily available by mail
Catalog listings are continually revised according to the experience and suggestions of Catalog users and staff.
Purpose
We are as gods and might as well get good at it. So far, remotely done power and glory — as via government, big business, formal education, church — has succeeded to the point where gross defects obscure actual gains. In response to this dilemma and to these gains a realm of intimate, personal power is developing — power of the individual to conduct his own education, find his own inspiration, shape his own environment, and share his adventure with whoever is interested. Tools that aid this process are sought and promoted by The Whole Earth Catalog.