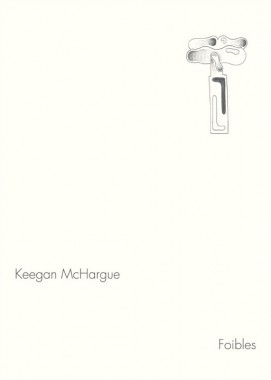 Keegan McHargue, Foibles
Softcover, 20 pp. + two posters, offset 4/1, 10 x 14 inches
Edition of 500
Published by Seems
$22.00 ·
Keegan McHargue was born in Portland, Oregon in 1982, and currently lives and works in New York. He has had solo exhibitions at Jack Hanley Gallery in San Francisco, Rivington Arms, Metro Pictures, and The Wrong Gallery in New York City, Galerie Emmanuel Perrotin in Paris, and Hiromi Yoshii Gallery in Tokyo. His work is part of several public collections, including the Deste Foundation in Athens, and the permanent collections of the San Francisco Museum of Modern Art, as well as the New York Museum of Modern Art.
McHargue combines banal interiors, pattern, and disjointed figures to create dystopic paintings and drawings that reference both art history and the psyche. His flattened compositions, simplified shapes, and neat planes of color echo the artificial, mannered nature of his scenes. These elements belie a darker narrative than may first appear.
Mono.Kultur 5, Maurizio Cattelan
Softcover, 32 pp., offset 4/1, 140 x 200 mm
Edition of 5000
ISSN 1861-7085
Published by Mono.Kultur
$8.00 ·
Cattelan, Gioni and Subotnick became known in the art world as a curating team when they founded
The Wrong Gallery
in 2002. Based in New York's art gallery district, Chelsea, the tiny non-profit art space of one square meter hosted more than 40 shows, including artists like Lawrence Weiner, Shirana Shahbazi, Tino Sehgal and Elizabeth Peyton.
The Wrong Times
arose from this project: a newspaper featuring interviews with all the artists shown at
The Wrong Gallery
.
Speaking of printed matters, Cattelan, Gioni and Subotnick also founded the publication series, Charley, in 2001 which deals with contemporary art in another consuming way. Based on the concept of collecting formats and contexts, the three mix up the information they find in recent publications and give way for new interpretations and coherences.