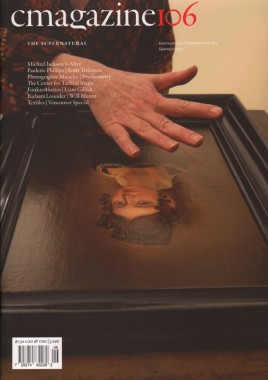 C Magazine 106, The Supernatural
Softcover, 64 pp., offset 4/1, 210 x 295 mm
Edition of 2000
ISSN 1480-5472
Published by C Magazine
$7.50 ·
Issue 106 includes feature articles by Jennifer Fisher on psychometry, Lynn Crosbie on Michael Jackson, and Louis Kaplan on Nate Larson's photographic miracles; David Lillington interviews Paulette Phillips, and Leah Modigliani interviews The Center for Tactical Magic; book and exhibition reviews from Antwerp, Chicago, Toronto, Edmonton, Victoria, Charlottetown, Stratford Ontario, McIvers Newfoundland and Ridgefield Connecticut, with a special section covering Vancouver during the 2010 Winter Olympics; artist project by Scott Treleaven, accompanied by an essay by Elijah Burgher.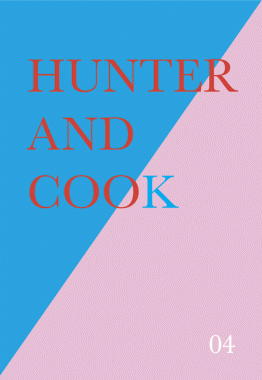 Hunter and Cook 4
Softcover, 80 pp., offset 4/1, 23 x 33 cm
Edition of 600
Published by Hunter and Cook
$10.00 ·
Hunter and Cook is a curated contemporary art magazine published and edited by Toronto based artists Jay Isaac and Tony Romano. Focusing on artists projects and interviews, Hunter and Cook aims to bring like minded artistic sensibilities in Canada and elsewhere to public awareness. As artists, and not designers, our intention is to present visuals in a simplistic, straight forward way that focuses more on the artists work than the magazine design. Unlike most art magazines, we are more interested in presenting work rather than reviewing it. Hunter and Cook is published 3 times a year.