Bicycles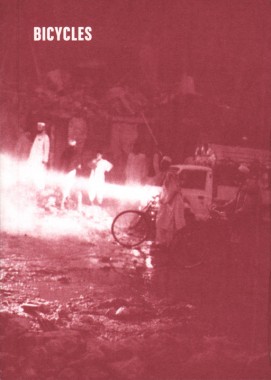 Michael Kim, Bicycles
Softcover, 48 pp., offset 1/1, 4 x 5.75 inches
Edition of 500
Published by Tramnesia
$8.00 ·
After Modern History
is a report on world events that re-edits the news of the day by linking together images according to a totally idiosyncratic perspective of pattern recognitions and typologies.
After Modern History
lifts photos from daily newspapers and re-organizes disparate, often atomized subjects into newly imagined affinities. For most people caught on the hard end of luck, the newspaper can be a lonely place. But in this second draft of history, bad news is no longer so isolated. There is no dateline.
Bicycles is a collection of newspaper clippings where bicycles appear incidentally to the photograph subject.