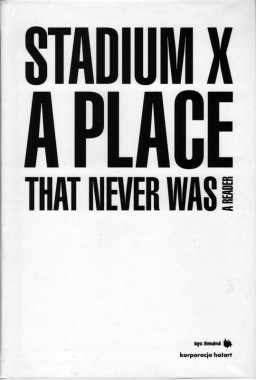 Joanna Warsza, Stadium X — A Place That Never Was
Softcover, 128 pp., offset 4/1, 135 x 195 mm
Edition of 500
ISBN 978-83-925107-6-5
Published by Laura Palmer Foundation
$20.00 ·
A mix of Socialist mausoleum, Aztec temple, and bunker system with a network of small gardens, along with a grid structure of endless market stalls — here is one of possible pictures of Socialist Realist ruin –- the 10th-Anniversary Stadium and the Jarmark Europa open-​air market surounding it. After twenty years of a phantom-like existence in the middle of Warsaw, this expanse in 2008 became the construction site of a new national stadium. The book offers a selection of texts pre­sent ing a multi-faceted picture of that site's deterioration and its bizarre existence as a 'city within a city'. It pictures the area as a Land-Art piece and picturesque ruin, a primeval forest, a realm of precariousness and discount shopping, a work camp for archaeologists and botanists, a 'Vietnamtown,' a sonic phenomenon or architec­tural splendor. The reader also documents the series of site-​specific art projects entitled The Finis sage of Stadium X curated by Joanna Warsza and provides them with a theoretical context.
The Stadium was built in 1955 from the rubble of a war-devastated, and was to preserve Communism's good name for forty years. In the early 1990s it fell into ruin, being at the same time 'revived' by Vietnamese intelligentsia-cum-vendors and Russian traders, pioneers of capital­ism. Jarmark Europa suddenly became the only multicultural site in the city, a storehouse of biographies and urban legends, as well as a major tourist attraction. The heterotopic logic of the place and its long-​standing (non)presence in the middle of Warsaw brought about the series of art projects, and later this reader.
Over the course of time, the 10-th Anniversary Stadium which is now being erased form the map of Warsaw will likely become some distant planet, while the present publication, with the brilliant contributions from its authors, will attain — per­haps — the status of an unreal story about a place that, after all, never was.
—Daniel Miller, Frieze