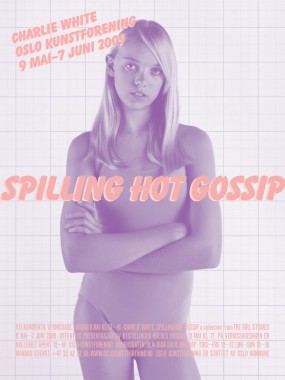 Charlie White, Spilling Hot Gossip
Poster, 100 lb matte coated paper, offset 2/0, 18 x 24 inches
Edition of 500
Unsigned, unnumbered
Published by Oslo Kunstforening
$12.00 ·
Collaboration with
Charlie White
and design of poster/take away for the exhibition
Spilling Hot Gossip
a selection from
The Girl Studies
at
Oslo Kunstforening
.
"Portraiture has always been motivated by two competing and overlapping desires: the desire to record, and the desire to be recorded. Artists Katy Grannan and Charlie White have examined this tension, exploring concepts of identity and subjectivity in a world increasingly dominated by media representations of the ideal self. The Sun and Other Stars presents two bodies of work that map the fragility and resilience of individuality in contemporary Western culture.
Grannan's unflinching portraits capture adult subjects along the sun-struck boulevards of the American West, transforming them from obscurity to individuality with pathos and candor. White's series of blonde teenage girls frames the popular and tyrannical appetite for celebrity with a deadpan lack of sentimentality. These two photographic series, accompanied by Grannan's first film project and White's new animation and personal collections of mass-culture ephemera, provide a visual vocabulary for an examination of the human subject and the encumbering effect of desire and aspiration."
— Britt Salvesen, The Sun and Other Stars: Katy Grannan and Charlie White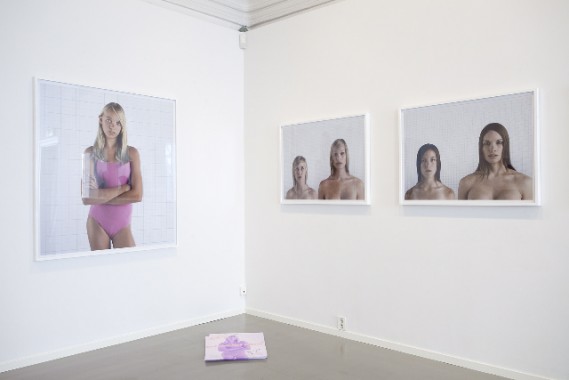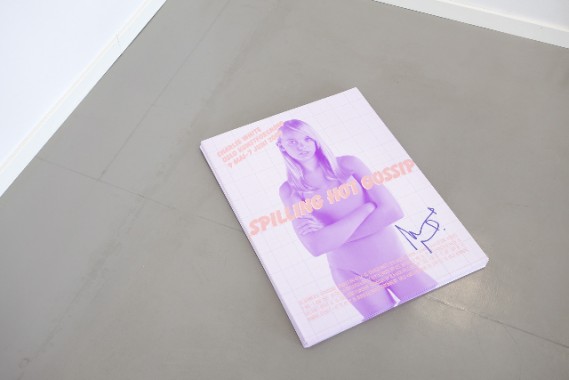 Richard Lidinsky and Jonathan Maghen, PALS (Coming Soon)
Océ print/poster, 1/0 on pink paper, 20 x 28 inches [21 x 29 inches framed*]
Edition of 3 + 2 proofs, numbered
Published by Textfield
$123.00 ·
Collaboration with Richard Lidinsky and design of poster/edition for the exhibition
PALS
.
Pals (full title: Pals for Life / Life for Pals) is a teleplay about the dialectics of friendships under the strain of artistic endeavor. Shot principally in January 2011 at the Actual Size gallery in Los Angeles' Chinatown, the approx. 34-minute video — told from the point of view of a traditional studio audience television program — revels in the angst and emotion of 4 friends/lovers who must install their respective art works in the presence of frenemies large and small. Each Pal is named after a specific human being, though the story implies that these pals are simple archetypes from a vast universe of narcissistic micro-movements.
*PALS (Coming Soon) print/poster ships unframed; trim size is an exact fit for this frame.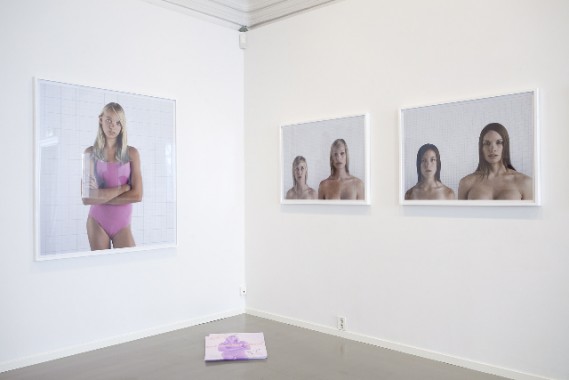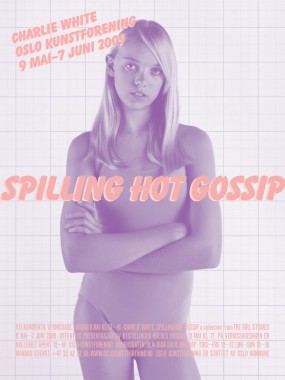 Charlie White, Spilling Hot Gossip
Poster, 100 lb matte coated paper, offset 2/0, 18 x 24 inches
Edition of 500
Design by Jonathan Maghen
Published by Oslo Kunstforening
Collaboration with
Charlie White
and design of poster/take away for the exhibition
Spilling Hot Gossip
a selection from
The Girl Studies
at
Oslo Kunstforening
.