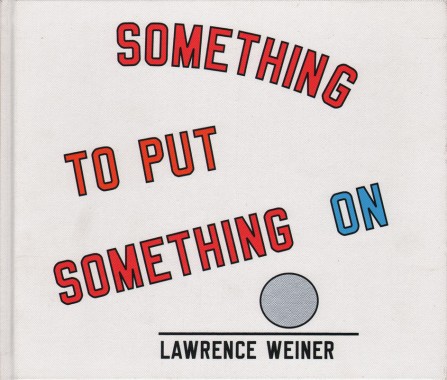 Lawrence Weiner, Something To Put Something On
Hardcover, 44 pp., offset 4/4, 255 x 215 mm
Edition of 5000
ISBN 9783865214911
Published by Steidl
$35.00 ·
Something to Put Something On
poses direct questions about art-making to and for young readers. Generously endowed with its maker's legendary wit, it is also, appropriately, the first title in the Little Steidl program. Neither storybook nor autobiography,
Something to Put Something On
is rather a "questioning book" for children, at once moving and intriguing in its candor:
I WAS A CHILD & AS MOST CHILDREN I DID MAKE THINGS
I TRIED TO FIND A PLACE TO PUT THE THINGS I HAD MADE
AGAIN & AGAIN I FOUND THAT THE SUPPORT OR PLINTH OR TABLE
ALL RESTED UPON THE EARTH & I REALIZED THAT ALL PEOPLE OF ALL AGES
WHO HAD MADE SOMETHING HAD TO FIND A PLACE TO PUT
WHAT THEY HAD MADE
THOSE PEOPLE WHO ASK THE QUESTION & THOSE PEOPLE WHO TRY
TO ANSWER THE QUESTION ARE FUNCTIONING AS ARTISTS.
I WAS A CHILD & DECIDED TO BE AN ARTIST.
—Lawrence Weiner