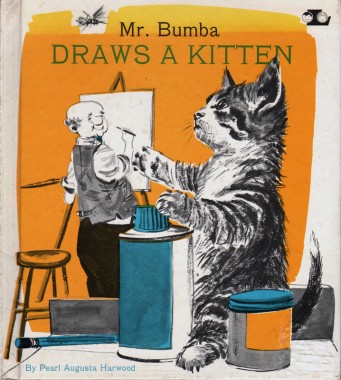 Pearl Augusta Harwood, Mr. Bumba Draws a Kitten
Hardcover, 32 pp., offset 3/2, 8.25 x 9.25 inches
Fifth edition
ISBN 0-8225-0107-4
Published by Lerner Publications
$11.00 ·
condition:
very good
, some wear on cover, interior unblemished, fifth edition, excellent reference copy.
Mr. Bumba was a painter of pictures. One day he wanted to make a picture of a kitten. But he could not remember just how to do it.
Copyright 1966 by Lerner Publications Company; fifth edition published in 1974. The type used in this book is Mr. Bumba Text set in 16 point.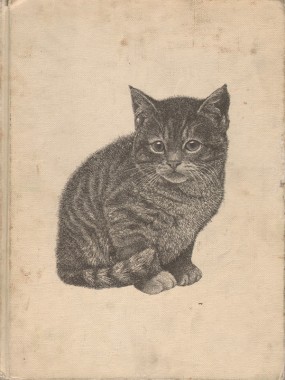 Howard Loxton, all color book of Kittens
Hardcover, 62 pp., offset 4/4, 215 x 290 mm
Edition of 5000
ISBN 0-7064-0325-8
Published by Octopus Books
sold
condition:
fair
, missing dust jacket, worn cover, interior in good condition.
all color book of KITTENS, published in 1974 by Octopus Books, London. A collection of 108 photographs of kittens being as cute as they can, doing kitten things: drinking milk and playing with string. Black and white illustration on front and back cover, all color photographs inside. Contents: You and your kitten; The new arrival; The variety of kittens; Discovery and exploration; In high places; Kittens at play; Acknowledgments.