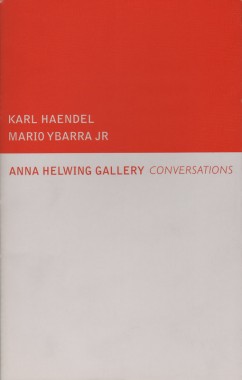 Conversations: Karl Haendel and Mario Ybarra Jr.
Softcover, 48 pp., offset 2/1, 5.5 x 8.5 inches
Edition of 1000
ISBN 978-1-4243246-7-5
Published by Anna Helwing Gallery
$12.00 ·
Conversation I: Mario Ybarra Jr. interviewed by Karl Haendel, Wilmington
Conversation II: Karl Haendel interviewed by Mario Ybarra Jr., Los Angeles
The initial idea for the series came when Mario and I had dinner sometime in 2006 or so in London, got kind of drunk, decided our gallery (Anna Helwing, where we both used to show) needed something extra, came up with a book series where her artists would interview each other, and the gallery would publish the books. We then drunkenly called Anna in Los Angeles and told her our plan to raise the level of discourse at the gallery. It most likely failed, as the gallery closed in 2008 and only one book in the series was ever made. But in that sense its a nice relic of the first gallery to open in Culver City, and an exciting time period of recent Los Angeles art history.
—Karl Haendel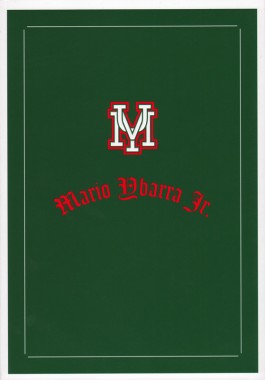 Mario Ybarra Jr., Capp Street Project
Softcover, 48 pp., offset 4/2, 6.5 x 9.25 inches
Edition of 1000
ISBN 978-0-9725080-7-0
Published by CCA Wattis Institute of Contemporary Art
$12.00 ·
When referred to as a Chicano artist in the Los Angeles Times, Mario Ybarra Jr. once protested, "I make contemporary art that is filtered through a Mexican-American experience in Los Angeles." Filled with graffiti, restaurant signage and stills from music videos, with sweeping graphic lines and lyric abstractions, his outrageous, multicolored murals speak about his particular experience as an artist and a Mexican-American, both politically and aesthetically. Compactly designed by Jon Suede/Stripe, this slim, dynamic catalogue with paper changes features an essay on the artist's entire oeuvre by Jens Hoffmann, along with an engaging text by Claire Fitzsimmons. Produced to accompany Ybarra's installation at San Francisco's Capp Street Project, this volume is the artist's first monograph, as well as a thorough document of the mural he produced over the course of his residency there.