Pregnancy and Chiropractic 1978 (Form No. 279)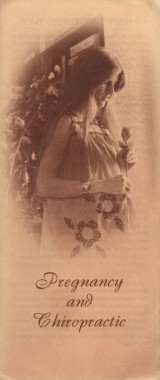 James W. Parker, Pregnancy and Chiropractic 1978 (Form No. 279)
Softcover, 4 pp., offset 1/1, 3.5 x 8.25 inches
Edition of 5000
Published by Parker Chiropractic Research Foundation
$2.00 ·
In 1978 (and until 1993),
Midwifery
was against the law in the State of California. Women wanting to have natural childbirth at home were literally forced underground — many Midwives circumvented this law by practicing as licensed Chiropractors or under the license of a Chiropractor. This pamphlet is ephemera from that era (1967-1993):
Mental Attitude Also Important
Your mental attitude during pregnancy should be considered, too. A bright outlook on life can help make these nine months a pleasure rather than a burden. Good common sense tells us that a woman free of pain, at ease and relaxed, concious that every necessary measure is being taken for the welfare of both herself and her child, will naturally have a better mental attitude than the woman who is afraid of suffering. Chiropractic care can help you achieve this assurance and, therefore, have a cheerful mental attitude.