Zeitung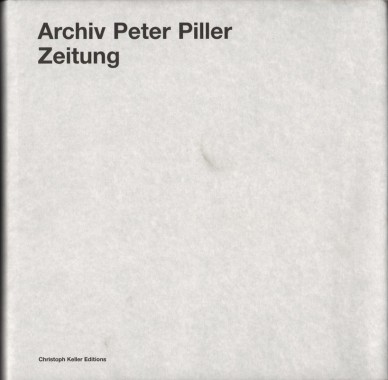 Peter Piller, Zeitung
Hardcover, 384 pp., offset 4/1, 280 x 280 mm
Edition of 5000
ISBN 978-3-905829-10-5
Published by JRP|Ringier, CK editions
$95.00 ·
From 1994 to 2005 Peter Piller earned his living as Head of Documentation in a big Hamburg media agency, responsible for the day-to-day analysis and archiving of over 150 regional newspapers. This activity was the springboard for his artistic work, the Peter Piller Archive. The newspaper photographs were classified according to a subjective methodology involving some 80 collection categories and assigned to a typology of picture journalism that graphically manages the grotesque mundaneness of our news culture and its visual archetypes.
This publication is the most complete compilation to date of Peter Piller's collection of found images. More than 2000 illustrations chosen from newspapers are organized in such categories as "Touching Cars," "Sad, Hopeless, Despair, Tristesse," "Girls Firing Arms," "Stand-in, Protests," or "Man and Fire." An improbable typology of press photography of the last decades.
This publication is part of the series of artists projects edited by Christoph Keller. Personally selected by Keller, for Textfield, as one of his top five from the series.