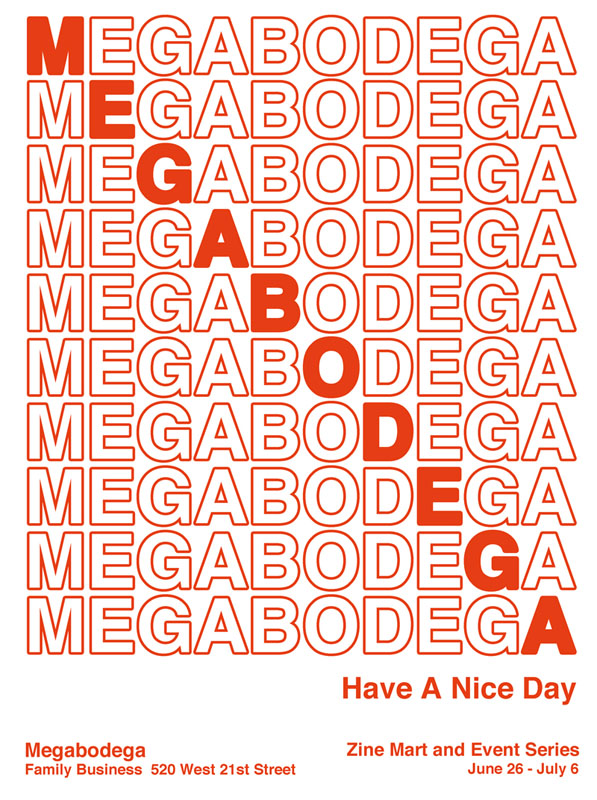 Megabodega
Zine Mart and Event Series
June 26 — July 6, 2012
Organized by Victoria Yee Howe
Family Business
520 West 21st St.
New York, NY 10012
200+ art books and magazines for sale; nightly book launches and parties; toll-free 24/7 Megabodega Hotline with new curated guest recordings daily.
Grand Opening: Tuesday, June 26, 7-10pm
Music by DJ Joro-Boro
Drinks provided by Macao Trading Co.
Family Business is the big brother of the Wrong Gallery, a minuscule space that Maurizio Cattelan, Massimiliano Gioni and Ali Subotnick ran in New York from 2002 to 2005. Just like the Wrong Gallery, Family Business is a non-profit space open to experimentation and irreverent exhibition formats.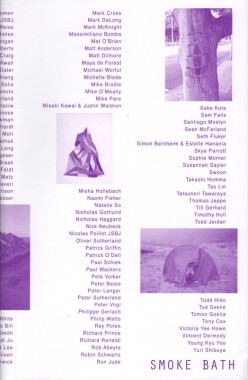 Peter Sutherland, Smoke Bath
Softcover, 328 pp., offset 1/1, 5.25 x 8 inches
Edition of 500
ISBN 978-0-98259360202
Published by Seems
out of print
Smoke Bath
is a collection of photographs and art work loosely based on the theme of camping, nature, and exploring.
The goal of Smoke Bath is to showcase the work of artists that are inspired by nature and raise money for freshair.org in the process. The Fresh Air Fund (freshair.org) is an independent, not-for-profit agency that provides free summer vacations to New York City children from low-income communities.