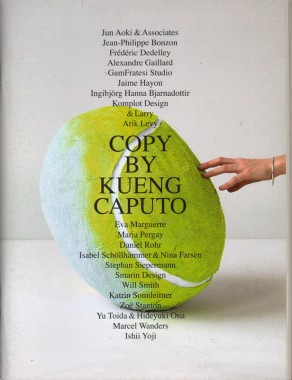 Sarah Kueng and Lovis Caputo, Copy
Softcover, 80 pp., offset 4/1, 195 x 260 mm
Edition of 200
ISBN 978-3-940215-07-9
Published by Passenger Books
$25.00 ·
This picture book documents how these two young Swiss product designers have copied objects seen at international design fairs over the last few years. Each of these copies is juxtaposed with the original, mostly on a double page spread. Using a precise approach, they exaggerate significant aspects of the original. In this way the dialog between the original and the copy represents an homage to the authors. Moreover, the originality of the copy shows what inspirational reading this makes. This wonderful artist book shows the Swiss duo's incredible sense of humor besides their original vision and innovative design. An edition of 200 copies.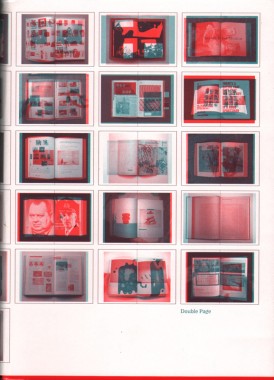 Christoph Keller and Jérôme Saint-Loubert Bié, Double Page
Softcover, 256 pp., offset 4/3, 115 x 160 mm
Edition of 2000
ISBN 978-2917855-06-5
Published by Editions B42
$15.00 · out of stock
45 graphic designers, 90 photographs, 10 years of books on contemporary art.
This book is based on an invitation to graphic designers to choose two books on contemporary art from the past decade whose design they think is particularly pertinent to the content, to photograph one double-page spread from each book and, if they wish, to comment on their choices.
Double Page provides a selection of recent art publications as viewed by graphic designers who are internationally known for their contribution to that field, and offers a glimpse at the role of book design today in our knowledge and understanding of contemporary art.
Shedding light on this prevalent relationship between art and graphic design by means of photography, Double Page constitutes an unprecedented document of how graphic designers see the work of their peers and their own practices as an essential part of the editorial process.
Wesley Willis, 2001
Softcover, 24 pp., offset duotone, 19.5 x 25.5 cm
Edition of 500
Published by Nieves
out of print
The Exhibition WW vs. GRRRR was first realized in St. Gallen (Switzerland) and then went to s'Hertogenbosch (Holland) and Giza (Egypt). It combines the first retrospective of Willis's oeuvre with an extensive selection of work by the young Swiss artist Ingo Giezendanner. 2001 is edited by Urs Lehni.
Wesley Willis, North Lake Shore Drive
Softcover, 16 pp., offset 4/4, 19.5 x 25.5 cm
Edition of 500
Published by Nieves
out of print
Wesley Willis (Chicago, 1963–2003) began his artistic career singing on the street, accompanied by his Technics KN 2000 keyboard. He was soon playing opening slots for local bands, and later recording songs as an homage to these performances (i.e. "Urge Overkill", "Swervedriver", "Foo Fighters", "The Frogs"). In 1989, Willis was diagnosed as schizophrenic; he explains that writing, performing, and recording help quiet the voices in his head. Most of his exposure came as an internet phenomenon during the early days of peer-to-peer file sharing.
Kunst Halle Sankt Gallen is the first institution to present an extensive show of Willis' artwork, focusing on its fascination for Chicago's architecture and the throbbing activity of the Midwest metropolis: the characteristic skyline, the lakeside, the freeways as well as the uniform fast food chains. His interest for urban sceneries came from it being his natural habitat, which was then translated into thousands of magnificently detailed ballpoint/felt-tip renderings of the city and riding around on the bus. North Lake Shore Drive has been edited by Urs Lehni and Linus Bill of Our Magazine.