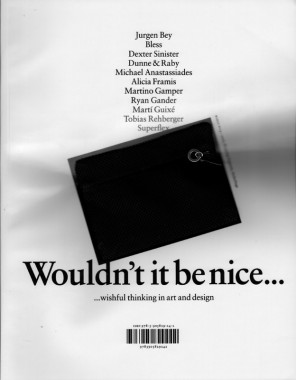 Katya Garcia-Anton and Emily King, Wouldn't it be nice
Softcover, 300 pp., offset 4/1, 232 x 297 mm
Edition of 2000
ISBN 978-3-905829-24-2
Published by JRP|Ringier
$42.00 ·
Contemporary culture is witnessing one of the most significant shifts of recent times. The old dividing lines between artists and designers appear to be dissolving into one another. Indeed the breadth and range of investigation and inspiration they share is possibly the widest to date. This publication
Wouldn't it be nice
hopes to present a series of projects emerging from these lines of dissolution, which reflect the current spirit of cultural production internationally.
The publication includes interviews with Jurgen Bey, Bless, Dexter Sinister, Dunne & Raby and Michael Anastassiades, Alicia Framis, Martino Gamper, Ryan Gander, Martí Guixé, Tobias Rehberger, and Superflex. Fully illustrated, the book presents a number of projects that have been specially commissioned for the exhibition. Quoting the aesthetic of the glossy magazine, the publication is designed by London-based group Graphic Thought Facility, and has attached to each cover a Bless N°14–2000, Shopping Supports Stickerbags self-adhesive purse/multiple.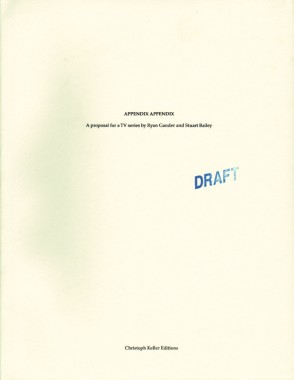 Stuart Bailey and Ryan Gander, Appendix Appendix
Softcover, 192 pp., offset 4/1, 215 x 280 mm
Edition of 5000
ISBN 978-3-905770-19-3
Published by JRP|Ringier, CK editions
$29.00 ·
Appendix Appendix
is conceived as the sequel to Ryan Gander and Stuart Bailey's 2003 book "Appendix." Like its predecessor, it attempts "a translation of practice" based on Ryan Gander's recent body of work. Neither straight
documentation, nor an "artist's book," it pushes for a third way, editing and presenting each individual piece of work in a manner appropriate to its specific nature. In the years since "Appendix," Gander's work has increasingly encompassed sound and the moving image in addition to the earlier objects and installations. This shift will directly affect the form of
Appendix Appendix
.
Born in 1976, Ryan Gander lives and works in London and Amsterdam. His photographs, films, installations and sculptures draw on multiple layers of facts and fiction. He has exhibited in the USA and throughout England and Europe.
The English-born Stuart Bailey (*1973) has forged a formidible creative base for himself in Amsterdam where he has benefited greatly from Dutch design tradition. Since his arrival in the Netherlands, he has become a steady contributor to the art and design culture as a writer, critic, editor, and graphic designer.
This publication is part of the series of artists projects edited by Christoph Keller. Personally selected by Keller, for Textfield, as one of his top five from the series.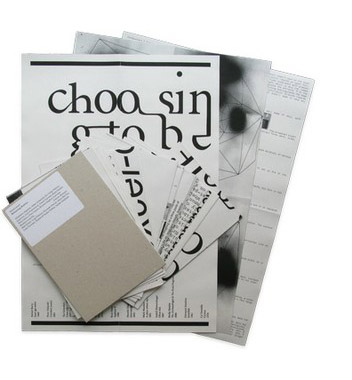 FormContent, Rehearsing Realities
Loose documents, ephemera, digital 1/1, 297 x 420 mm
Edition of 250
ISBN 978-0-9559029-1-8
Published by FormContent
$15.00 ·
Rehearsing Realities, an exhibition on paper
began with a proposal to a group of international artists and curators, inviting them to imagine a fictional exhibition at FormContent. Often being confronted by theoretical and cultural evenness, FormContent was particularly intrigued by the idea of an accumulation of imaginary gestures, of alternative histories and creative personal mythologies. An exercise in rehearsing curatorial realities has taken place through the different responses sent to FormContent. Tailored to a specific format, these proposals present imagined exhibitions, which comprise traces, fragments, and beginnings of stories.
The question of whether they are real or fictional is not important, what matters is that they translate minds onto paper. Conducting and publishing this project allows FormContent to ponder its own identity and, at the same time, explore new curatorial boundaries by expanding the project beyond the walls of its physical space. This publication employs FormContent's usual mode of communication, a format somewhere between a press release, a poster, a document and an invitation; a black laser print on recycled A3 sized paper.