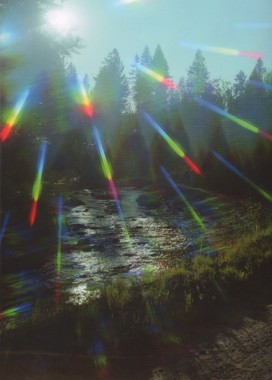 Ron Jude, Emmett
Softcover, 80 pp., offset 4/4, 6.75 x 9.5 mm
Edition of 1000
ISBN 978-0-9823653-2-8
Published by The Ice Plant
$30.00 ·
The past did not exist. Not at all.
—Jean-Paul Sartre
Jude's latest book project, Emmett, brings new life to a selection of his own early photographs, made in the early 1980s in central Idaho. Enhanced by special-effects filters and cheap telephoto lenses, the pictures include hazy scenes of a summertime drag race, a forest across changing seasons, midnight horror films on TV and a Nordic-looking teenager who appears as a specter from the artist's past. Edited here nearly 30 years after its making, this experimental body of work acquires unexpected nuance and humor, and has the serendipitous qualities of a dream –memories reorganized into a fictionalized narrative, imagery suffused with both an unsettling melancholy and the glow of youthful reverie. Related conceptually to and residing thematically between his two previous books — Alpine Star and Other Nature — Emmett achieves an aesthetic inspired by equal parts Motörhead and Jean-Paul Sartre.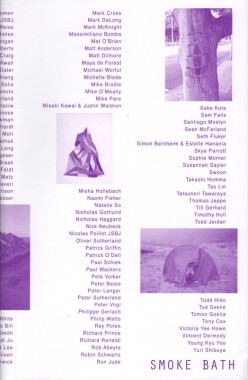 Peter Sutherland, Smoke Bath
Softcover, 328 pp., offset 1/1, 5.25 x 8 inches
Edition of 500
ISBN 978-0-98259360202
Published by Seems
out of print
Smoke Bath
is a collection of photographs and art work loosely based on the theme of camping, nature, and exploring.
The goal of Smoke Bath is to showcase the work of artists that are inspired by nature and raise money for freshair.org in the process. The Fresh Air Fund (freshair.org) is an independent, not-for-profit agency that provides free summer vacations to New York City children from low-income communities.