Phil Chang
Arthur Ou
Eduardo Sarabia
Anna Sew Hoy
Temporary bookshop and exhibition
July 21 — August 25, 2011
Reception: Thursday, July 21, 6-8pm
Organized by Textfield, Inc.
Creatures of Comfort New York is pleased to present
No More Reality
, a temporary bookshop and exhibition organized by Textfield, Inc. The bookshop and exhibition will take place in Creatures of Comfort's adjacent project space at
205 Mulberry St
.
In conjunction with the bookshop, which will feature current and archived titles from Textfield Distribution, there will be an exhibition of work by artists that Jonathan Maghen has collaborated with through Textfield to realize various publishing projects. The exhibition will feature the works of Phil Chang, Arthur Ou, Eduardo Sarabia, and Anna Sew Hoy.
The bookshop and exhibition title have been appropriated from the Philippe Parreno work, No More Reality (the demonstration), 1991, which is a four-minute video of children demonstrating, and chanting the slogan and title ("No More Reality").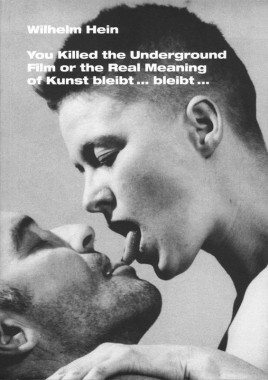 Wilhelm Hein, You Killed the Underground Film or the Real Meaning of Kunst bleibt… bleibt…
Softcover, 120 pp., offset 1/1, 150 x 210 mm
Edition of 2000
ISBN 978-3-00-020345-9
Published by Passenger Books
$25.00 ·
The texts in this book relate to Wilhelm Hein's eponymous film project, which he has been working on since 1989. The film now comprises about 15 hours of 16mm film, in black-and-white and color. "Wilhelm Hein demands that the viewer of his film be free of any preconceived idea of cinema," writes critic Cecile Chich in the first of two excellent essays on this epic work-in-progress. The book also includes black and white photos, a lengthy interview with the German auteur and a filmography. Includes texts by Cécile Chich and Marc Siegel, an interview with Wilhelm Hein and photographs by Annette Frick.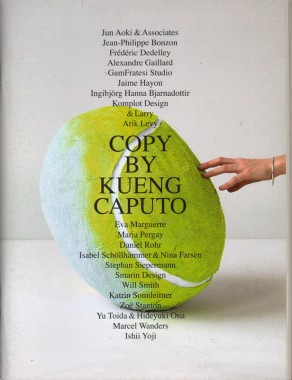 Sarah Kueng and Lovis Caputo, Copy
Softcover, 80 pp., offset 4/1, 195 x 260 mm
Edition of 200
ISBN 978-3-940215-07-9
Published by Passenger Books
$25.00 ·
This picture book documents how these two young Swiss product designers have copied objects seen at international design fairs over the last few years. Each of these copies is juxtaposed with the original, mostly on a double page spread. Using a precise approach, they exaggerate significant aspects of the original. In this way the dialog between the original and the copy represents an homage to the authors. Moreover, the originality of the copy shows what inspirational reading this makes. This wonderful artist book shows the Swiss duo's incredible sense of humor besides their original vision and innovative design. An edition of 200 copies.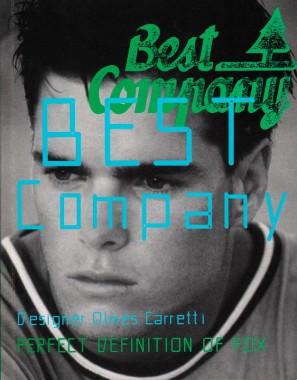 Olmes Carretti, Best Company
Softcover, 120 pp., offset 1/1, 195 x 250 mm
Edition of 1000
ISBN 978-3-940215-00-0
Published by Passenger Books
$29.00 ·
Designer Olmes Carretti
Perfect Definition of a Fox
As vintage couture clothing becomes more and more collectible, the next step is no surprise: collectible sweatshirts. Specifically, the incredibly beautiful, heavy-duty "high-school sweats" from Best Company in the 1980s, designed by Italian designer Olmes Carretti. Decorated with motifs derived from nature and sports, based on precise natural studies and drawings, these high-quality sweatshirts are deeply appreciated for their design artistry. Graphic design wizards Vier5 visited Carretti at his home in Reggio Emilia and created this absorbing book, including dazzling photos documenting individual shirts, explanatory texts and interviews with the designer. Best Company closed almost 20 years ago, and it has since achieved cult status: this book shows why.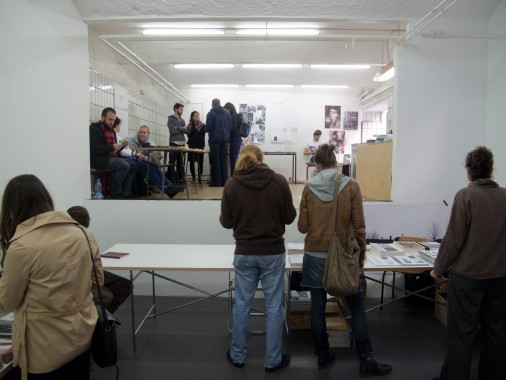 Unter dem Motto. One Day Self Publishing Fair
Motto
is proud to invite you to the event "Unter dem Motto — One Day Self Publishing Fair", organized in occasion of a weekend dedicated to art publications in Berlin. On Saturday, September 5th, 60 publishers coming from 18 countries, selected by
Nieves
,
Rollo Press
and
Motto
, will fill the spaces of Motto bookshop and Chert gallery with their productions. This one-day event presents an eclectic mix offering a careful overview on the importance and constant growth of autonomous publishing nowadays, from home-printed zines to publications by renowned institutions. 40+ booths will give the oportunity to the audience to meet the publishers and browse titles in a friendly athmosphere.
"Unter dem Motto" is organized in parallel of the presentation of the newly acquired exhibition "KIOSK – Modes of multiplication" on Thursday, September the 3rd, at Staatliche Kunstbibliothek Berlin and the Art Books fair: "Miss Read", organized by KW Institute for Contemporary Art, from September 4th to 6th.
Unter dem Motto
Saturday, September 5th
12.00 am — 12.00 pm
Motto/Chert
Skalitzer Str. 68
10997 Berlin
U1 Schlesisches Tor
Tel: +49 30 75442119
Simon Lewis, Observances. The Book of Soundings
Softcover, 96 pp., offset 1/1, 210 x 295 mm
two smyth-sewn volumes, in slipcase
Edition of 500
ISBN 978-3-00-020662-7
Published by Passenger Books
$60.00 ·
"When in English one uses the term to "take soundings," one is either referring to the act of making indirect enquiries about a person or situation, or to the attempt to determine – by the use of such devices as sonar, a sounding balloon or a deep sea lead – physical properties and conditions in a terrain, the atmosphere or the sea. In taking soundings one is not working in front of the object, but at a distance from it. One is neither taking samples from the physical environment nor describing a direct perception of it, so there exists a space between what is investigated and the investigator.
The soundings involved in The Book of Soundings derive not so much from geographical conditions, as from such realms as the natural sciences, culture, politics etc., and although the drawings are initiated by these realms, they are not a collection of unmediated pickings from, or comments about them, chosen merely to highlight this or that current issue or debate. The idea, in these drawings, is to let the distance between the investigator and what is investigated become a breathing space that allows in both the imagination and the critical gaze."
—Simon Lewis
Linda Herzog, Birmingham Istanbul Zürich
Hardback, 72 pp., offset 4/4, 245 x 210 mm
Edition of 500
ISBN 3-00-015509-0
Published by Passenger Books
out of print
In times when the New Europe is a buzzword, this book asks how real it is. For over five years, Linda Herzog snapped photographs in her Swiss hometown of Zurich, the former industrial city of Birmingham (UK) and the Turkish metropolis of Istanbul. She chose 52 pictures for the book and compressed them into an open essay on urban reality. The layout was made in Zurich, the typography was made in Cologne, and the printing was made in Istanbul. Awarded: Most Beautiful Swiss Books 2005.
Ingo Giezendanner, GRR30: urban recordings
Softcover, 352 pp., offset 1/1, 132 x 180 mm
Edition of 500
ISBN 978-3-00-018496-3
Published by Passenger Books
out of print
GRRRR publishes his current work continuously in a series of publications. The first publication GRR1: Video is a booklet which he published on his own in 1998. The current book GRR30: urban recordings is his thirtieth publication. It contains drawings from the years 1998 to 2006 which provide insight into Giezendanner's entire work for the first time.
David Shrigley, Worried Noodles (The Empty Sleeve)
Softcover, 48 pp., offset 4/1, 314 x 314 mm
book of song lyrics inside color gatefold LP cover
Edition of 500
ISBN 3-86560-028-X
Published by Passenger Books
out of print
"I didn't make a record. It would have been too difficult. It was easier not to make a record." Shrigley writes on the LP-sleeve, that contains a book of song lyrics, shaped in the form of a record. He connects the three spheres of his work—art, books and music—with the utmost ease. The lyrics show a thriving will to understand, are simple, ambiguous poetry, bribing, self-ironic and honest.