C Magazine 116, Collections
Softcover, 64 pp., offset 4/1, 210 x 295 mm
Edition of 2200
ISSN 1480-5472
Published by C Magazine
$7.50 ·
Issue 116, Collections, features essays by Steve Lyons on Ivan Moudov's Museum in Fragments; Laura Kenins looking at Electronic Waste as Collection through the work of Laura Kikauka and Gordon Monahan, Eleanor King and Artifact Institute; Randy Gladman on the Art Collection of Alison and Alan Schwartz; Shannon d'Avout on Walid Raad and Artist Pension Trust; Anna-Sophie Springer on The Book as Exhibition, as well as an artist project by Charles Stankievech with an accompanying essay by Pandora Syperek. C Magazine 116 also includes reviews of exhibitions by Yuji Agematsu, Morgan Fisher, Raymond Boisjoly, Ian Baxter and Derek Liddington, as well as group exhibitions Emotional Blackmail at Kitchener-Waterloo Art Gallery, Wavelengths & Future Projections at the Toronto International Film Festival, Where is the Time at Foundation Izolyatsia in Ukraine, Sounding Selves at Dalhousie University Art Gallery, and Only Birds Sing the Music of Heaven in this World at the Museum of Craft and Folk Art.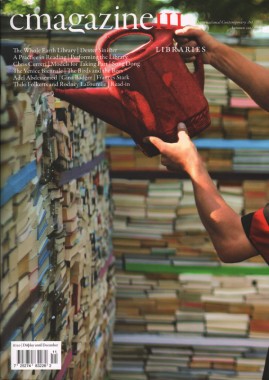 C Magazine 111, Libraries
Softcover, 60 pp., offset 4/1, 210 x 295 mm
Edition of 2200
ISSN 1480-5472
Published by C Magazine
$7.50 ·
Issue 111 Libraries includes features by Adam Lauder on Performing the Library; Jen Hutton on Dexter Sinister; David Senior on the Whole Earth Catalogue; Randy Lee Cutler on Reading; Pandora Syperek on ILLUMINnations: the 54th Venice Biennale; Jenifer Papararo on Frances Stark: I've Had it and a Half at The Hammer Museum, and an artist project by Read-in. Issue 111 also includes reviews of: Rabih Mroué: The Inhabitants of Images at Prefix ICA; Song Dong: Waste Not at the Vancouver Art Gallery; Gina Badger: Mongrels at Issue Project Room; Adel Abdessemed: The Future of Décor at OCAD Professional Gallery; Chris Curreri: Something Something at University of Toronto Art Centre; The Birds and the Bees at Oakville Galleries; The Domestic Queens Project at FOFA Gallery, Concordia, and Wim Botha: All Around at Galerie Jette Rudolf. Also included is a review by the 2011 C New Critics Competition winner Kari Cwynar on Models for Taking Part at Presentation House Gallery.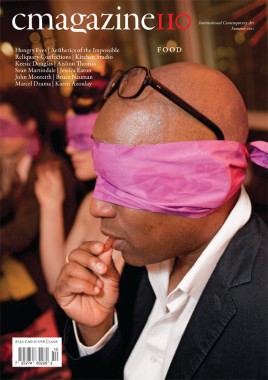 C Magazine 110, Food
Softcover, 57 pp., offset 4/1, 210 x 295 mm
Edition of 2200
ISSN 1480-5472
Published by C Magazine
$7.50 ·
Issue 110 includes Mark Clintberg's essay Hungry Eyes: Feasting on Food Photography from elBulli and Beyond, Nicole J. Caruth's Kitchen Studio: A Recipe for Disaster, Leah Modigliani's Collaborating on Conceptual Art: An Aesthetics of the Impossible and Swapnaa Tamhane's The Performative Space: Tracing the Roots of Performance-Based Work in India. This issue also include an interview by Pandora Syperek with Fiona Kinsella and artist projects by Keesic Douglas and Aislinn Thomas. The reviews section includes writing about exhibitions and projects by Karen Azoulay, Marcel Dzama, Jessica Eaton, Sean Martindale, John Monteith, Bruce Nauman, Cady Noland and Diane Arbus, Douglas Scholes and Hide/Seek: Difference and Desire in American Portraiture at the National Portrait Gallery in Washington D.C.