The Kingsboro Press 5
Softcover, 52 pp., mimeograph 3/1, 8.5 x 11 inches
supplement: Amy Yao Curates for The Kingsboro Press
Softcover, 44 pp., mimeograph 1/1, 8.5 x 11 inches
Edition of 350
Published by The Kingsboro Press
$20.00 ·
Issue 5 of The Kingsboro Press, mimeograph printed by The Kingsboro Press at The Uses of Literacy in Greenpoint, Brooklyn. Contributors: Becca Albee, Jordan Awan, Dan Arps, The Changes, Mason Cooley, Chris Barton, Milano Chow, Dru Donovan, Jason Eberspeaker, Richard Elliot, Ryan Foerster, Alex Gartenfeld, Zoe Ghertner, Petrova Giberson, Bieanca Hester, Matthew Higgs, David Horovitz, Marie Jager, Thomas Jeppe, Josh Kline, Maxwell Krivitsky, Aude Levere, Mondo Mondo, Jeff Morgan, Dan Moynihan, Jason Park, Asher Penn, Megan Plunkett, Jacob Robichaux, Carissa Rodriguez, Joshua Ray Stephens, Ethan Swan, Oscar Tuazon, Alex Vivian, Daniel Wagner, Jessica WIlliams, Amy Yao, Doniella Davy.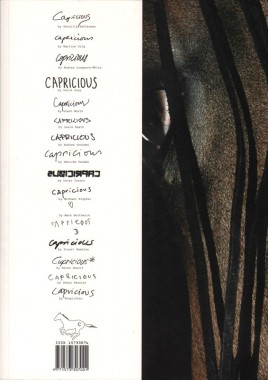 Capricious 5
Softcover/perforated, 128 pp., offset 4/4, 200 x 270 mm
Edition of 2000
Published by Capricious
$16.00 ·
Founded by Swedish photographer Sophie Mörner in 2004, Capricious Magazine is an international fine art photography publication for emerging artists and is issued twice annually. The presented work is neither commercial, nor fashion photography; it creates visual narrative without itermediary contextualization. Capricious is a potential make-shift, personal gallery of autonomous works, as well as journal.