C Magazine 108, Money
Softcover, 64 pp., offset 4/1, 210 x 295 mm
Edition of 2200
ISSN 1480-5472
Published by C Magazine
$7.50 ·
C Magazine issue 108
Money
includes an artist project by Abbas Akhavan, where he has inserted a sheet of imitation gold leaf in each of 2,200 copies of C Magazine. Also available are 25 special limited edition magazines with gold leaf, signed and numbered by the artist.
Feature articles in issue 108 include Economies of Faith, by Richard Ibghy and Marilou Lemmens, looking at works by Mark Boulos, Melanie Gilligan and Olivia Plender that explore the relationship between the workings of the market and the spiritual belief, and Documents of Self-Administration: A Conversation with Vincent Bonin, by Adam Lauder, about the exhibition Documentary Protocols at the Leonard & Bina Ellen Gallery. This issue also includes interviews with British artist Spartacus Chetwynd, by David Lillington, and Canadian artist Divya Mehra, by Natasha Bissonauth.
Reviews include Shannon Anderson on Anselm Kiefer's Palmsonntag at the Art Gallery of Ontario; Saelen Twerdy on Projections: Music Video at Musée d'art contemporain de Montréal; Kenneth Hayes on Group ABS at Gallery Siz in Rijeka, Croatia; Vanessa Nicholas on Rivane Neuenschwander's A Day Like Any Other at the New Museum; Heather Diack on Annie MacDonell's Beside the Midnight Lake at Katharine Mulherin Contemporary Art Projects; Rebecca Weisman on Guy Ben-Ner: Thursday the 12th at Mass MoCA; Jill Glessing on Fernando Sánchez Castillo: National Episodes and Óscar Muñoz: Becoming Air at Círculo de Bellas Arte, Madrid; Michael Birchall on the 6th Berlin Biennale; and Evan Webber on Jon McCurley: Fashion Blog — Clothes for President.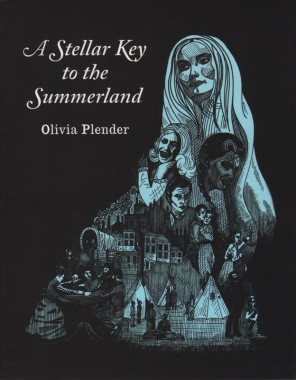 Olivia Plender, A Stellar Key to the Summerland
Softcover, 112 pp., offset 1/1, 140 x 180 mm
Edition of 2000
ISBN: 978-1-870699-86-0
Published by Book Works
$30.00 ·
British artist Olivia Plender's work is based in historical research, finding idiosyncratic and little-known events, "peculiar pockets of forgotten history that sit awkwardly with the way we live now," as one observer comments. Her new graphic novel takes us to another of those pockets, the Modern Spiritualist Movement, which began in 1848, a heady mixture of non-conformist religion, politics and popular entertainment presented as a scientific response to the newly industrialized world. The movement's working-class base linked it to political campaigns, particularly the anti-slavery movement and the campaign for women's suffrage. By acting as mediums, women found a unique opportunity to give political speeches — in the guise of channeling a spirit — without transgressing social boundaries. Plender, who was a participant in the 2006 Tate Triennial, mimics the techniques of 19th-century pamphlets and combines spiritualist ephemera with interviews in this absorbing work. Part of Book Works Singular Sociology Series.