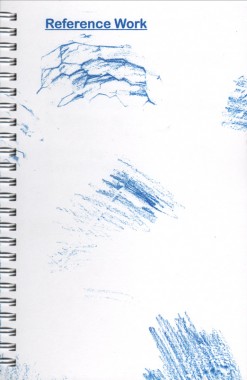 Martine Syms and Marco Kane Braunschweiler, Reference Work
Softcover, 98 pp., mimeograph 2/1, 5.5 x 8.5 inches
Edition of 250, numbered
Published by Golden Age and the Museum of Contemporary Art Chicago
$15.00 · out of stock
Reference Work
is a conceptual business textbook.
As stated by Syms "Reference Work is the text I wish we had read prior to opening our business Golden Age. It contains original essays from Marco Kane Braunschweiler and I, the syllabus from the only business class we ever took, summaries from our favorite business books and a collection of resources that we've found helpful over the past four years. The book may be interpreted as sarcastic or irreverent, but I hope readers will notice our sincerity. It is difficult trying to enter the business world as a right brain thinker, not because those skills aren't essential, but because that world is structured around hard metrics and art is difficult to quantify. Reference Work is intended to demystify some of the day-to-day operations of a cultural business and expand the definition of commercial success."
The text was edited by Zachary Kaplan. The book was published with the assistance of the Museum of Contemporary Art Chicago on the occasion of We Are Here: Art & Design Out of Context, an exhibition curated by James Goggin.