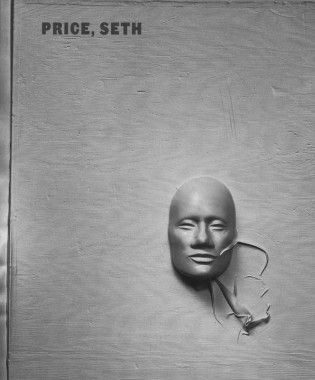 Seth Price, Price, Seth
Hardcover, 108 pp., offset 4/4, 200 x 240 mm
Edition of 2000
ISBN 978-3-03764-028-9
Published by JRP|Ringier
$35.00 ·
Through paintings, sculpture, video, and media work, Seth Price underlines the production strategies, dissemination modes, and valuation patterns of art. His appropriationist work, which he rather calls a "redistribution" of (often) pirated materials, disrupts the operations of commodity culture. Among his formats and tactics one should mention the recycling of iconic illustrations, reduplication (from digital to vacuum-formed techniques), the reenactment of projects, and the collaborative actions with
Continuous Project
(formed in 2003 with Bettina Funcke, Wade Guyton, and Joseph Logan) or other artists.
The first monograph dedicated to the artist, this book includes an essay by Michael Newman as well as Price's own critical take on his practice, given in the form of a videotaped conference that structures the presentation of his works.
Un Coup de Dés: Writing Turned Image. An Alphabet of Pensive Language
Softcover, 250 pp., offset 4/1, 215 x 280 mm
Edition of 5000
ISBN 9783865605436
Published by Walther König
$60.00 ·
In her essay "Writing Turned Image. An Alphabet of Pensive Language," Sabine Folie writes, "An idea…explored in Stéphane Mallarmé's Un coup de dés (A roll of the dice) of 1897 has in the twentieth century become an integral part of the poetological and, more generally, the avant-gardist vocabulary: the idea of unmasking language as a convention whose purpose it is to discipline the individual and to subject it to a regulated system of capitalist exploitation as well as to guarantee orientation in the world… Writing was released from the textual ensemble of the book and integrated into the flow of its media — as a disturbance, a deconstruction of meaning." The ideas of Symbolist poet and galvanizing nineteenth-century intellectual Stéphane Mallarmé are discussed in this text-heavy volume in relation to works by Robert Barry, Lothar Baumgarten, Marcel Broodthaers, Theresa Hak Kyung Cha and Rodney Graham, among others. Scholarly essays by Sabine Folie, Anna Sigridur Arnar, Jacques Rancière, Gabriele Mackert and Michael Newman accompany a generous selection of images by each of the artists.