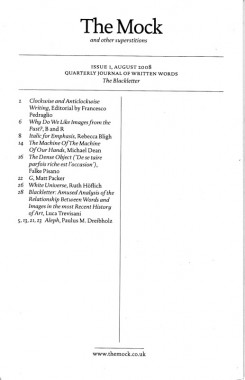 The Mock 1, The Blackletter
Softcover, 32 pp., offset 1/1, 135 x 210 mm
Edition of 500
Published by FormContent
$4.00 ·
The Mock and other superstition
is a quarterly fanzine exploring the relation between artists writing and writing-as-art through a frontal confrontation of writers, curators and visual artists with the written word.
Basing each issue on a loose thematic title, The Mock creates a fluid space to research and experiment with writing as a parallel and yet autonomous art practice.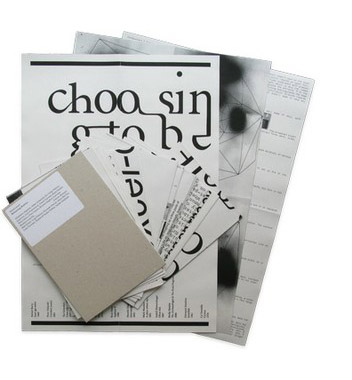 FormContent, Rehearsing Realities
Loose documents, ephemera, digital 1/1, 297 x 420 mm
Edition of 250
ISBN 978-0-9559029-1-8
Published by FormContent
$15.00 ·
Rehearsing Realities, an exhibition on paper
began with a proposal to a group of international artists and curators, inviting them to imagine a fictional exhibition at FormContent. Often being confronted by theoretical and cultural evenness, FormContent was particularly intrigued by the idea of an accumulation of imaginary gestures, of alternative histories and creative personal mythologies. An exercise in rehearsing curatorial realities has taken place through the different responses sent to FormContent. Tailored to a specific format, these proposals present imagined exhibitions, which comprise traces, fragments, and beginnings of stories.
The question of whether they are real or fictional is not important, what matters is that they translate minds onto paper. Conducting and publishing this project allows FormContent to ponder its own identity and, at the same time, explore new curatorial boundaries by expanding the project beyond the walls of its physical space. This publication employs FormContent's usual mode of communication, a format somewhere between a press release, a poster, a document and an invitation; a black laser print on recycled A3 sized paper.