Contra Mundum I-VII
Softcover, 224 pp., offset 1/1, 140 x 220 mm
Edition of 1000
ISBN 978-0-9830773-0-5
Published by Oslo Editions
$18.00 · out of stock
The inaugural volume from
Oslo Editions
,
Contra Mundum I-VII
, documents a series of talks held at the Mandrake in Los Angeles on the theme of "contra mundum" or "against the world." Taking its cue from Evelyn Waugh's novel
Brideshead Revisited
, Contra Mundum posits the world-making potential of (anti)sociality as a subject position and the value of a notion of collectivity grounded in "association without relation." So doing, the book considers a diverse range of topics, including the furniture of Donald Judd, Private Issue New Age music, animal subjectivity, misanthropy and the trope of self-banishment in Shakespeare, apocalypticism and the zombie film, pirates from Blackbeard to Somalia, and the post-punk vocalist Mark E. Smith. Featuring contributions from artists Rupert Deese, Elad Lassry, Anthony Pearson, and Frances Stark, and critics Aaron Kunin, Matthew Taylor Raffety, and Evan Calder Williams.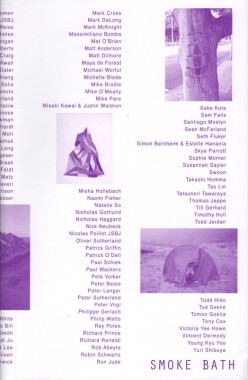 Peter Sutherland, Smoke Bath
Softcover, 328 pp., offset 1/1, 5.25 x 8 inches
Edition of 500
ISBN 978-0-98259360202
Published by Seems
out of print
Smoke Bath
is a collection of photographs and art work loosely based on the theme of camping, nature, and exploring.
The goal of Smoke Bath is to showcase the work of artists that are inspired by nature and raise money for freshair.org in the process. The Fresh Air Fund (freshair.org) is an independent, not-for-profit agency that provides free summer vacations to New York City children from low-income communities.