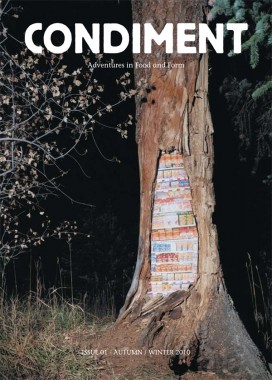 Condiment 1 — Adventures in Food and Form
Softcover, 72 pp., offset 4/4, 165 x 230 mm
Edition of 1000
ISSN 1837–8226
Published by Condiment
$18.00 ·
Condiment — Adventures in Food and Form
is a publication and project-base exploring the relationship between food and creativity and food and community.
For the most part, food is nature at its most familiar. While views on its production and presentation become ever more complex and conflicted, it is nevertheless us that set the parameters.
As its masters we think: food is here to serve us. But quite possibly: we are here to serve food. Reversing the roles and giving up control is an eye-opening exercise. After all it is we who are dependent on food, and not food that is dependent on us.
One key attribute to the good servant is enthusiasm and enthusiasm is most often found in the amateur. The true amateur, of which E.C. Large was proudly an advocate, is defined as "one who loves".
Beyond our own lack of expertise, although that is true too, it is this simple sentiment that has informed Condiment — Adventures in Food and Form. Equal parts wonder and worship, each page of this publication is not as much about what we do know as what we don't.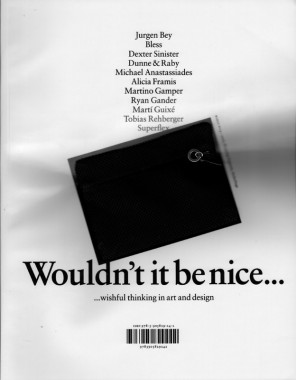 Katya Garcia-Anton and Emily King, Wouldn't it be nice
Softcover, 300 pp., offset 4/1, 232 x 297 mm
Edition of 2000
ISBN 978-3-905829-24-2
Published by JRP|Ringier
$42.00 ·
Contemporary culture is witnessing one of the most significant shifts of recent times. The old dividing lines between artists and designers appear to be dissolving into one another. Indeed the breadth and range of investigation and inspiration they share is possibly the widest to date. This publication
Wouldn't it be nice
hopes to present a series of projects emerging from these lines of dissolution, which reflect the current spirit of cultural production internationally.
The publication includes interviews with Jurgen Bey, Bless, Dexter Sinister, Dunne & Raby and Michael Anastassiades, Alicia Framis, Martino Gamper, Ryan Gander, Martí Guixé, Tobias Rehberger, and Superflex. Fully illustrated, the book presents a number of projects that have been specially commissioned for the exhibition. Quoting the aesthetic of the glossy magazine, the publication is designed by London-based group Graphic Thought Facility, and has attached to each cover a Bless N°14–2000, Shopping Supports Stickerbags self-adhesive purse/multiple.