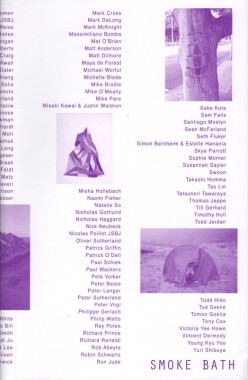 Peter Sutherland, Smoke Bath
Softcover, 328 pp., offset 1/1, 5.25 x 8 inches
Edition of 500
ISBN 978-0-98259360202
Published by Seems
out of print
Smoke Bath
is a collection of photographs and art work loosely based on the theme of camping, nature, and exploring.
The goal of Smoke Bath is to showcase the work of artists that are inspired by nature and raise money for freshair.org in the process. The Fresh Air Fund (freshair.org) is an independent, not-for-profit agency that provides free summer vacations to New York City children from low-income communities.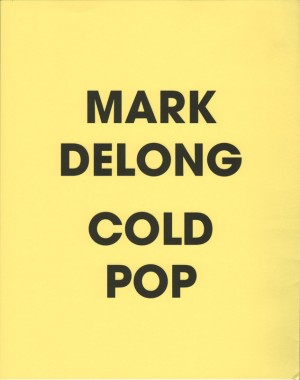 Mark DeLong, Cold Pop
Softcover, 100 pp., offset 4/1, 7.75 x 9.75 inches
Edition of 1000
ISBN 978-0-9825936-0-8
Published by Seems
$24.00 ·
Cold Pop features three separate but related bodies of work by artist Mark DeLong: a series of six panel cartoons, a selection of ceramics, and graphite drawings. Delong combines dreamlike associations with movie and television references that, though tongue-in-cheek and humorous, border on the horrific. The vast network of associations — anthropomorphized raisins, rabbits, and and cats — mingle in an absured and anxiety-laden world where figures wrestle with their neuroses, boredom, unrequited lust, and romantic rejection.
Mark DeLong / Jason McLean, Melanie Sheepwash
Softcover, 24 pp., offset 4/1, 11 x 17.5 cm
Edition of 500
Published by Nieves
$8.00 ·
For the first time Nieves brings together their unique styles of drawings and collage in Melanie Sheepwash, a booklet inspired by modern dads "getting busy in their own time", and produced for the occasion of the homonymous exhibition at the Charles H Scott Gallery in Vancouver.