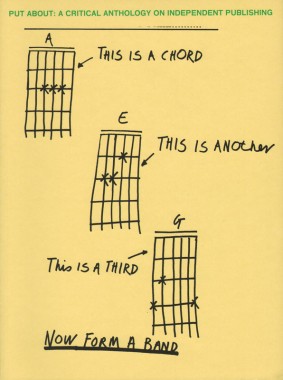 Maria Fusco and Ian Hunt, Put About: A Critical Anthology on Independent Publishing
Softcover, 194 pp., offset 4/1, 190 x 255 mm
Edition of 2000
ISBN: 1-870699-70-X
Published by Book Works
$40.00 ·
Put About: A Critical Anthology on Independent Publishing presents a timely discussion about independent publishing and publishing by artists, focusing on books where the makers keep control of every aspect of production through to distribution. Combining an interest in what and why publishers and artists feel compelled to deliver such materials, together with the economic models, audience and networks of association that can give independent productions a wider cultural presence, this book features a broad range of written and visual pieces alongside 'case-studies' from a selection of contemporary international publishers. Contributors include: John Baldessari, Simon Bedwell, Michael Bracewell, Andrea Brady, Cabinet Magazine, Bonnie Camplin, Maurizio Cattelan, David Dibosa, Matthew Higgs, Stewart Home, Lucy Lippard, Emily King, Gunilla Klingberg, Jakob Kolding, John Miller, Paul D. Miller aka Dj Spooky, Aleksandra Mir, Stéphanie Moisdon, David Osbaldeston, Raymond Pettibon, Lynne Tillman, Nicolas Trembley, and Axel John Wieder.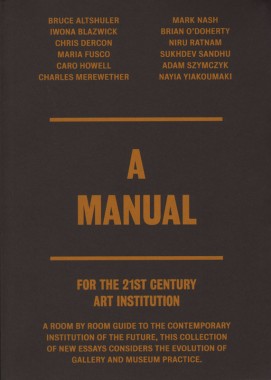 Shamita Sharmacharja, A Manual For the 21st Century Art Institution
Softcover, 184 pp., offset 2/2, 150 x 210 mm
Edition of 2000
ISBN 978-3-86560-618-1
Published by Walther König
$42.00 ·
A Manual For the 21st Century Art Institution invites 12 writers — artists, academics, curators and gallery and museum directors—to assess the present trajectory of arts institutions by explicating various issues, each of which is associated with an imaginary room. Readers journey from the reception to the roof terrace via rooms dedicated to temporary exhibitions, site-specific commissions and collections displays, taking in the bookshop, café, auditorium and education spaces along the way. Bruce Altshuler, Iwona Blazwick, Chris Dercon, Maria Fusco, Caro Howell, Charles Merewether, Mark Nash, Brian O'Doherty, Niru Ratnam, Sukhdev Sandhu, Adam Szymczyk and Nayia Yiakoumaki are our guides to this inviting theater. The result is an indispensable handbook for art professionals, students and anyone curious about today's art world.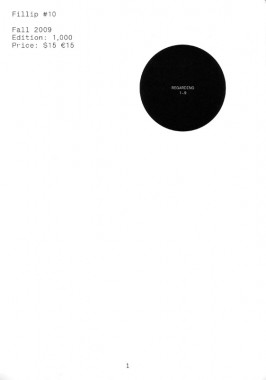 fillip 10
Softcover, 124 pp., offset 2/2, 210 x 297 mm
Edition of 1000
Published by Fillip
$15.00 ·
Fillip is a publication of art, culture and ideas released three times a year by the Projectile Publishing Society from Vancouver, British Columbia.