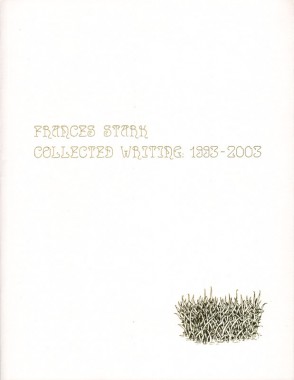 Frances Stark, Collected Writing: 1993–2003
Softcover, 160 pp., offset 4/1, 215 x 280 mm
Edition of 2000
ISBN: 978-1-870699-63-1
Published by Book Works
$49.00 · out of stock
This book brings together many of Stark's texts for the first time, including essays on artists and text pieces. Stark's writing is not specifically sited in visual art, but is rooted in the condition of contemporary life, encountering along the way literary tradition, music and philosophy. These provide the backbone to much of her thinking, as do the problems faced by being both an artist and writer today. These themes are presented through a pseudo-autobiographical style that frequently presents itself as poetic musings, creating meandering, off-centred texts that are often humorous and at the same time highly readable.
This book also includes facsimiles of "The Unspeakable Compromise of the Portable Work of Art" as well as specially designed pages by Stark, making this anthology a fascinating insight into the artist's practice. Includes a forward by Matthew Higgs.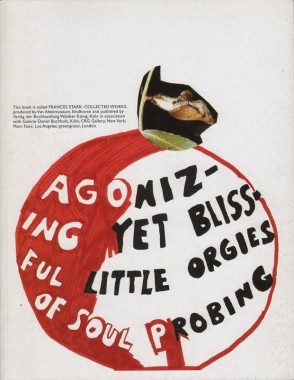 Frances Stark, The Collected Works
Softcover, 160 pp., offset 4/1, 220 x 280 mm
Edition of 2000
ISBN 978386560263
Published by Walther König
$54.00 · out of stock
The Los Angeles-based artist and art writer Frances Stark has gathered an international cult following for her prolific prose and her smart, honest and intimate artwork. This engaging artist's book is conceived as a companion piece to Stark's Collected Writings 1993–2003, fashioning itself as a graphic counterpart that draws from the artist's paintings, collages, drawings, videos, poetry and more, from 1993 to the present. Through provocative and diaristic text notes printed alongside Stark's sometimes humorous, often self-scrutinizing images, The Collected Works addresses the paradox of reproducing visual art that is essentially non-photogenic by nature — because of its tactility, detail or scale. The book formally addresses how verbiage flows in and out of the work(s), and leaves no space for the legitimizing language of the critic or curator. Neither a typical catalogue nor monograph, it pushes for a third form, a new art work constructed from existing pieces.