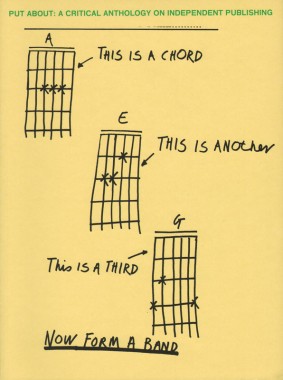 Maria Fusco and Ian Hunt, Put About: A Critical Anthology on Independent Publishing
Softcover, 194 pp., offset 4/1, 190 x 255 mm
Edition of 2000
ISBN: 1-870699-70-X
Published by Book Works
$40.00 · out of stock
Put About: A Critical Anthology on Independent Publishing presents a timely discussion about independent publishing and publishing by artists, focusing on books where the makers keep control of every aspect of production through to distribution. Combining an interest in what and why publishers and artists feel compelled to deliver such materials, together with the economic models, audience and networks of association that can give independent productions a wider cultural presence, this book features a broad range of written and visual pieces alongside 'case-studies' from a selection of contemporary international publishers. Contributors include: John Baldessari, Simon Bedwell, Michael Bracewell, Andrea Brady, Cabinet Magazine, Bonnie Camplin, Maurizio Cattelan, David Dibosa, Matthew Higgs, Stewart Home, Lucy Lippard, Emily King, Gunilla Klingberg, Jakob Kolding, John Miller, Paul D. Miller aka Dj Spooky, Aleksandra Mir, Stéphanie Moisdon, David Osbaldeston, Raymond Pettibon, Lynne Tillman, Nicolas Trembley, and Axel John Wieder.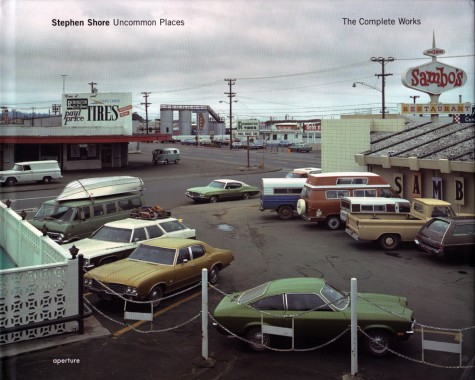 Stephen Shore, Uncommon Places
Hardcover, 188 pp., offset 4/4, 12.75 x 10.5 inches
Edition of 5000
ISBN 9781931788342
Published by Aperture
$55.00 ·
Published by Aperture in 1982 and long unavailable, Stephen Shore's legendary Uncommon Places has influenced a generation of photographers. Among the first artists to take color beyond advertising and fashion photography, Shore's large-format color work on the American vernacular landscape stands at the root of what has become a vital photographic tradition. Uncommon Places: The Complete Works presents a definitive collection of the original series, much of it never before published or exhibited. Like Robert Frank and Walker Evans before him, Shore discovered a hitherto unarticulated version of America via highway and camera. Approaching his subjects with cool objectivity, Shore's images retain precise internal systems of gestures in composition and light through which the objects before his lens assume both an archetypal aura and an ambiguously personal importance. In contrast to Shore's signature landscapes with which Uncommon Places is often associated, this expanded survey reveals equally remarkable collections of interiors and portraits. As a new generation of artists expands on the projects of the New Topographic and New Color photographers of the seventies — Thomas Struth (whose first book was titled Unconscious Places), Andreas Gursky and Catherine Opie among them — Uncommon Places: The Complete Works provides a timely opportunity to reexamine the diverse implications of Shore's project and offers a fundamental primer for the last 30 years of large-format color photography.