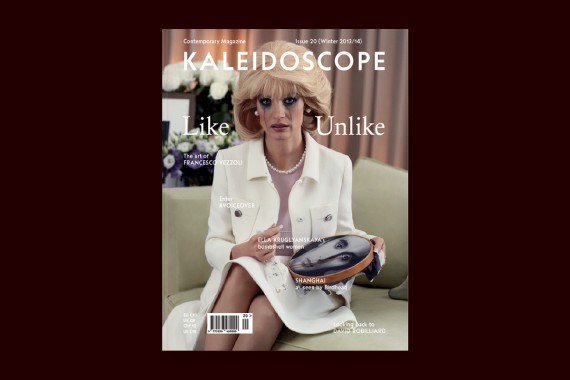 KALEIDOSCOPE Magazine 20 — Winter 2014
Softcover, 242 pp. + three special inserts, offset 4/4, 220 x 287 mm
English edition
ISSN 2038-4807
Published by KALEIDOSCOPE Press
$18.00 ·
The opening section of HIGHLIGHTS features Latvian-born painter Ella Kruglyanskaya (words by Chris Sharp); Danish performer Christian Falsnaes (interview by Raimar Stange); American painter Ned Vena (words by Mathieu Malouf); British artist Haroon Mirza (interview by Thom O'Nions); and Berlin-based Loretta Fahrenholtz (words by Michele D'Aurizio).
Edited by Kaleidoscope's editor-in-chief Alessio Ascari and entitled #VOICEOVER, the MAIN THEME section is dedicated to the deployment of off-camera commentary as a conceptual device in moving image works. The survey presents an overview by Shama Khanna on a new generation of artists, including Ed Atkins, Camille Henrot, Pilvi Takala, Duncan Campbell and Laure Prouvost; a case study by Pablo Larios on Jordan Wolfson; an essay by Marie de Brugerolle on French filmmakers Chris Marker and Jean-Luc Godard; and a conversation between Oliver Laric and George Vasey on voiceover in the pop realm.
Riding the edge of contemporary art and show business, the controversial work of Francesco Vezzoli, our cover story and the subject of the MONO section, occupies a schizophrenic space between pop and conceptualism, high and low, cynicism and criticality. The section comprises an essay by Andrea Viliani, an interview by Kevin McGarry, and a visual project specially created by the artist based on Grindr profiles. 
A selection of videos featured in the Mono and Main Theme sections will be soon available to watch on KALEIDOSCOPE Videoclub, our new online channel of video exhibitions. Stay tuned!
Lastly, this issue's section of REGULARS features Hans Ulrich Obrist introducing Swiss artist Kaspar Müller; Carson Chan meeting young global curator Simon Castets; Davide Quadrio reporting on the art scene in Shanghai, in conversation with local duo Birdhead; Fredi Fischli and Niels Olsen rediscovering the art of Chicago artist Christina Ramberg in conversation with Albert Oehlen; and Matthew Erickson inaugurating a new series of articles focused on single art works, Close-up, with an in-depth look at Matthew Barney's latest project, River of Fundament.
The issue is enriched by our seasonal TIPS on following, reading, listening, stopping by, meeting and visiting; as well as by three SPECIAL INSERTS by Belgian collective Leo Gabin, British maverick David Robilliard and Japanese legendary illustrator Hajime Sorayama.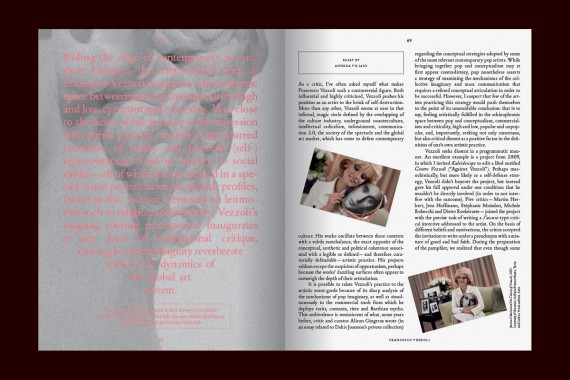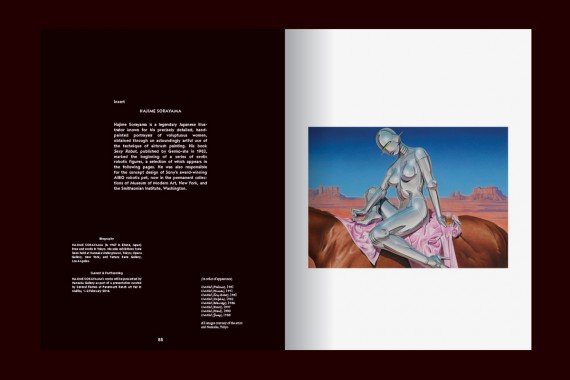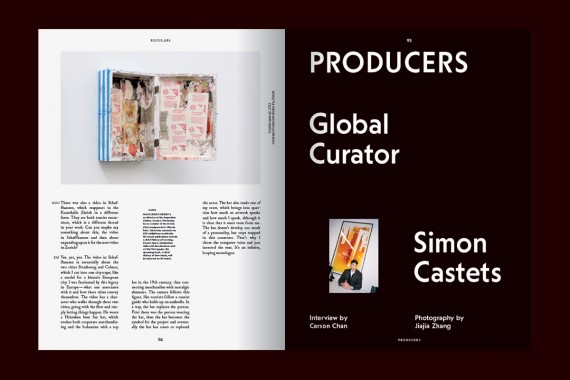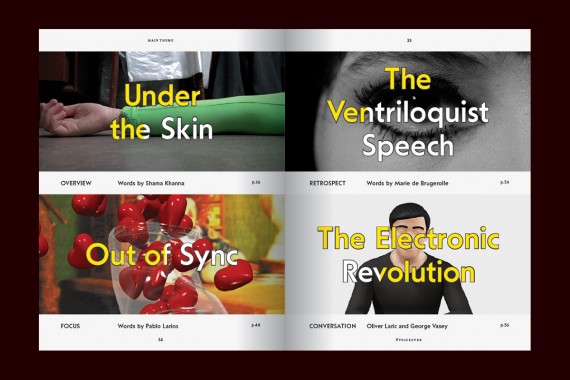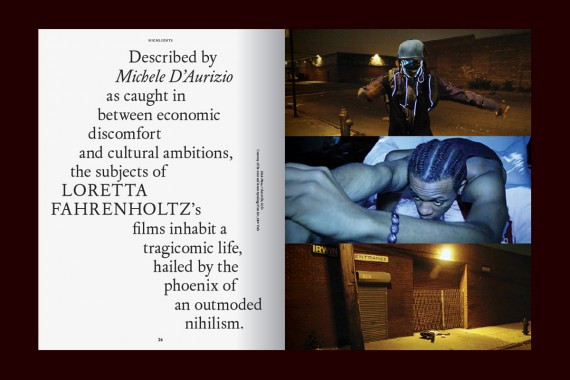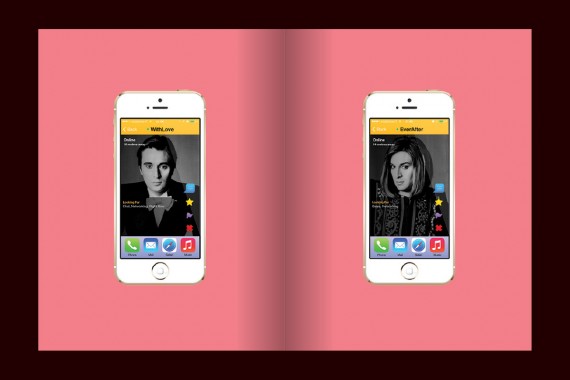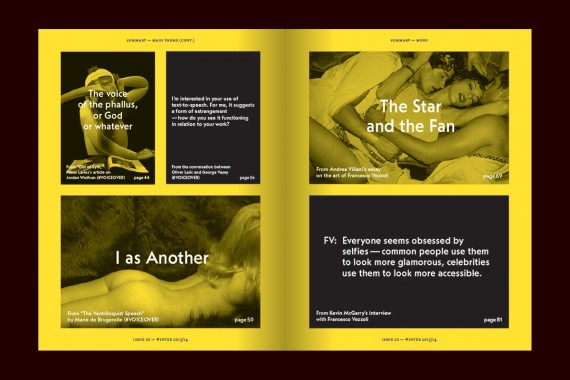 C Magazine 118, Criticism
Softcover, 60 pp., offset 4/1, 210 x 295 mm
Edition of 2200
ISSN 1480-5472
Published by C Magazine
$7.50 ·
Issue 118 includes feature essays by Adam Lauder on "Sensitivity Information", Charlene Lau on "Problems in the Evaluation of Contemporary Art", Stephen Horne on the "Doing(s) of Art Criticism", Ben Davis on "Surviving the Crisis", and Peta Rake on "Private Acts: Note taking in the Margins of Art Criticism", as well as Sky Goodden in conversation with Dave Hickey.
Artist Projects include Dave Dyment's Old Man Deciphering a Briefcase, and Charmaine Wheatley's The Painting is Better.
Also, in this issue, reviews from across Canada and around the globe: Rose Bouthillier on Julia Dault, Jessica Bradley Annex, Toronto; Heather White on Jimmy Limit: Show Room, Clint Roenisch Gallery, Toronto; Shannon Anderson on Volume: Hear Here, Blackwood Gallery, Mississauga; Kyla Brown on Peter Dykhuis: Inventories & Micro-mapping, Red Head Gallery, Toronto; Vanessa Parent: Invisible Violence, Artspeak, Vancouver; Gloria Hickey on Philippa Jones: MIRIAD, The Rooms Provincial Art Gallery, St. John's; Jane Affleck on Position As Desired, Canadian Museum of Immigration at Pier 21, Halifax; Daniella E. Sanader on Manuela Lalic: Activisme timide, Optica, Montreal; Jill Gleesing This Will Have Been: Art, Love & Politics in the 1980's, Institute of Contemporary Art, Boston; Jen Hutton on Jordan Wolfson: Raspberry Poser, REDCAT, Los Angeles; and Michael Davidge on Robert Tombs: L'Occupation, ParisCONCRET, Paris.
C118 also includes book reviews of The Last Art College: Nova Scotia College of Art and Design, 1968-1978, review by Leah Modigliani; West of Center: Art and the Counterculture Experiment in America, 1965-1977, review by Felicity Tayler; and Work Work Work: A Reader on Art and Labour, review by Amber Landgraff.