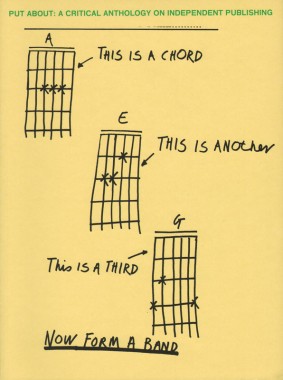 Maria Fusco and Ian Hunt, Put About: A Critical Anthology on Independent Publishing
Softcover, 194 pp., offset 4/1, 190 x 255 mm
Edition of 2000
ISBN: 1-870699-70-X
Published by Book Works
$40.00 ·
Put About: A Critical Anthology on Independent Publishing presents a timely discussion about independent publishing and publishing by artists, focusing on books where the makers keep control of every aspect of production through to distribution. Combining an interest in what and why publishers and artists feel compelled to deliver such materials, together with the economic models, audience and networks of association that can give independent productions a wider cultural presence, this book features a broad range of written and visual pieces alongside 'case-studies' from a selection of contemporary international publishers. Contributors include: John Baldessari, Simon Bedwell, Michael Bracewell, Andrea Brady, Cabinet Magazine, Bonnie Camplin, Maurizio Cattelan, David Dibosa, Matthew Higgs, Stewart Home, Lucy Lippard, Emily King, Gunilla Klingberg, Jakob Kolding, John Miller, Paul D. Miller aka Dj Spooky, Aleksandra Mir, Stéphanie Moisdon, David Osbaldeston, Raymond Pettibon, Lynne Tillman, Nicolas Trembley, and Axel John Wieder.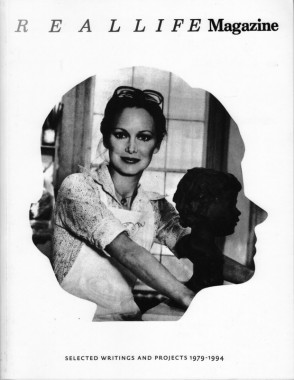 Real Life Magazine: Selected Writing and Projects 1979-1994
Softcover, 320 pp., offset 1/1, 8.25 x 11 inches
Edition of 1000
ISBN 9780978869700
Published by Primary Information
$30.00 ·
Real Life Magazine: Selected Writings and Projects 1979-1994
highlights a selection of writings and artists' projects from Real Life magazine, which was originally edited by artist, writer, and curator, Thomas Lawson and writer, Susan Morgan. Published in twenty-three issues from 1979-1994 as an intermittent black and white magazine, Real Life featured artists and art historians writing on art, media and popular culture interspersed with pictorial contributions. The development of the magazine through its 15 year history, traces the influences, development and transitions of artists through the 80s.
The anthology features writings by and about Dara Birnbaum, Eric Bogosian, Rhys Chatham, Mark Dion, Jack Goldstein, Felix Gonzalez-Torres, Kim Gordon, Dan Graham, Thomas Lawson, Louise Lawler, Sherrie Levine, Allan McCollum, John Miller, Dave Muller, Matt Mullican, Adrian Piper, Richard Prince, David Robbins, Ed Ruscha, Cindy Sherman, Laurie Simmons, Michael Smith, John Stezaker, Bernard Tschumi, Jeff Wall, Lawrence Weiner, and James Welling among others.