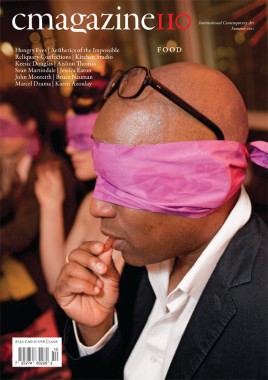 C Magazine 110, Food
Softcover, 57 pp., offset 4/1, 210 x 295 mm
Edition of 2200
ISSN 1480-5472
Published by C Magazine
$7.50 ·
Issue 110 includes Mark Clintberg's essay Hungry Eyes: Feasting on Food Photography from elBulli and Beyond, Nicole J. Caruth's Kitchen Studio: A Recipe for Disaster, Leah Modigliani's Collaborating on Conceptual Art: An Aesthetics of the Impossible and Swapnaa Tamhane's The Performative Space: Tracing the Roots of Performance-Based Work in India. This issue also include an interview by Pandora Syperek with Fiona Kinsella and artist projects by Keesic Douglas and Aislinn Thomas. The reviews section includes writing about exhibitions and projects by Karen Azoulay, Marcel Dzama, Jessica Eaton, Sean Martindale, John Monteith, Bruce Nauman, Cady Noland and Diane Arbus, Douglas Scholes and Hide/Seek: Difference and Desire in American Portraiture at the National Portrait Gallery in Washington D.C.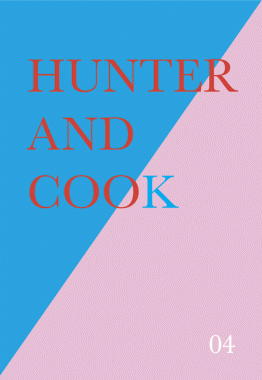 Hunter and Cook 4
Softcover, 80 pp., offset 4/1, 23 x 33 cm
Edition of 600
Published by Hunter and Cook
$10.00 ·
Hunter and Cook is a curated contemporary art magazine published and edited by Toronto based artists Jay Isaac and Tony Romano. Focusing on artists projects and interviews, Hunter and Cook aims to bring like minded artistic sensibilities in Canada and elsewhere to public awareness. As artists, and not designers, our intention is to present visuals in a simplistic, straight forward way that focuses more on the artists work than the magazine design. Unlike most art magazines, we are more interested in presenting work rather than reviewing it. Hunter and Cook is published 3 times a year.