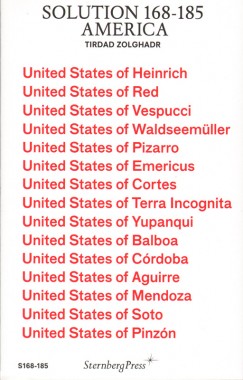 Tirdad Zolghadr, Solution 168-185: America
Softcover, 112 pp., offset 2/1, 110 x 180 mm
Edition of 2000
ISBN 978-1-933128-90-0
Published by Sternberg Press
$19.00 ·
Solution 168–185: America is the fourth book in the Solution series. Opting for the United States of America, "still the most proficiently colonial place I know," Zolghadr provides a compilation of highly entertaining "solutions," where the objective is not the education of America so much as the pleasure of a text that purports to be just that. Tirdad Zolghadr is a writer/curator based in Berlin. He is editor-at-large for Cabinet magazine. He organized the United Arab Emirates pavilion, Venice Biennale 2009, and the long-term project Lapdogs of the Bourgeoisie (with Nav Haq). Zolghadr teaches at the Center for Curatorial Studies, Bard College.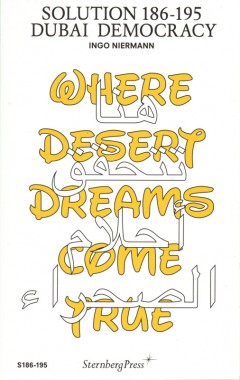 Ingo Niermann, Solution 186-195: Dubai Democracy
Softcover, 128 pp., offset 3/1, 110 x 180 mm
Edition of 2000
ISBN 978-1-934105-17-7
Published by Sternberg Press
$19.00 · out of stock
Using Dubai as a sort of modernist blank slate for urban and social renewal, author Ingo Niermann — a relentlessly creative artist whose tongue is firmly jammed into his cheek — confronts today's most relevant cultural and technological developments with elixirs that are as pertinent as they are unbelievable. In the fifth book in the Solution series, Niermann sees Dubai, a sparsely populated piece of desert, become specialized as housing the global center for treating diabetes, called
Sugar World
. And the Gulf state will be Kumbaya-style universal, too, offering non-confrontational public spaces where both a state of total advertising and compulsive kindness, or what he calls a "personal humaneness account," co-exist.
"Ingo Niermann is the author and brain behind some of the most intriguing and bizarre intellectual speculations of the last years."
—Fabrizio Gallanti, Abitare