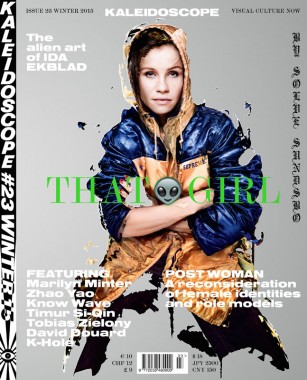 KALEIDOSCOPE Magazine 23, Winter 2015
Softcover, 272 pp., offset 4/4, 230 x 300 mm
English edition
ISSN 2038-4807
Published by KALEIDOSCOPE Press
$18.00 ·
Welcome to Kaleidoscope's #23 (Winter 2015). Following the recent, successful redesign by Bureau Mirko Borsche, we are back with a brand new issue. The new formula is taking shape, new columnists and contributors are joining our ranks, and a lot of enthusiastic research went into curating the most compelling content out there.
In the opening section of HIGHLIGHTS, twelve profiles account for the best of the season: JASON MATTHEW LEE (by Alexander Shulan), DANIEL BAUMANN (by Aoife Rosenmeyer), MARYLIN MINTER (by Gianni Jetzer), MAGALI REUS (by Ruba Katrib), KNOW WAVE RADIO (by Alexandre Stipanovich), BEATRICE GIBSON (by George Vasey), CATHERINE AHEARN (by Tobias Czudej), K-HOLE (by Kevin McGarry), JAMIAN JULIANO-VILLANI (by Joshua Abelow), ALESSANDRO BAVA (by Francesco Garutti), ZHAO YAO (by Venus Lau), and IDEA BOOKS (by Xerxes Cook).
At a time when feminism resurges both in critical discourse and media headlines, while at the same time entering a list of words overdue to be banned, our signature MAIN THEME section is devoted to a reconsideration of female identities and role models. POST WOMAN is composed of a think tank, a think piece by Natasha Stagg and five interviews, including with Juliana Huxtable (by Andrew Durbin), Amalia Ulman (by Francesca Gavin), Judith Bernstein (by Hanne Mugaas), Massimiliano Gioni on "La Mamma" (with Pietro Rigolo), and Girls Like Us (by Felix Burrichter).
To follow, this issue's MONO section and cover story are dedicated to Norwegian artist IDA EKBLAD. Fueled by an outright marvel for this thing called art, her work is distinguished by an extreme degree of impatience and prolificness. Her shift and turns are the result of a feverish engagement with pure materiality, synthesized with popular culture and animated by alien transformations. This definitive monographic survey comprises an essay by Peter J. Amdam, an interview by Cory Arcangel and an original portrait by Sølve Sundsbø.
Later on, the VISIONS section invites the eye to an enthralling journey across almost 100 pages of visual contributions by artists, curators and image-makers, including: TOBIAS ZIELONY, "Jenny Jenny"; MR.; "Chicago": BARBARA CRANE and TONY LEWIS; DAVID DOUARD in Los Angeles; JONAS WOOD; "Alliantecnik," curated by Alessio Ascari; TIMUR SI-QIN, "Premier Machinic Funerary"; and GRAHAM LITTLE.