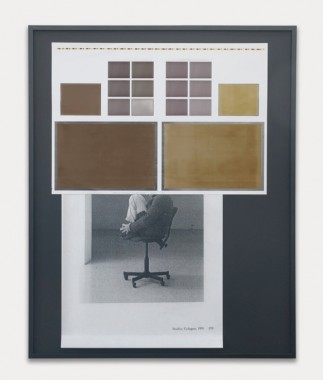 Running Sheet and Artist Portrait; Chromogenic and Offset Prints, 2012
Phil Chang — Studio, Affect
7 July – 11 August 2012
Opening reception: Saturday, 7 July 2012, 7-9pm
Pepin Moore
933 Chung King Rd.
Los Angeles, CA 90012
Pepin Moore is proud to present
Studio, Affect,
an exhibition of new works by
Phil Chang
, on view from 7 July through 11 August 2012. A reception for the artist will be held Saturday, 7 July from seven to nine in the evening.
As his third and final project that examines the various implications of affect, Phil Chang includes works in Studio, Affect that obliquely address the role of the studio in contemporary culture. Studio, Affect includes various depictions of artist's studios — photographs of book pages depicting Francis Bacon's disheveled space, Giacometti in his studio studying his wife, Richter sitting on an office chair — alongside images from catalogs that rely on tropes of the studio. Also included are images Chang has produced which depict his own production. These include photographs of laser prints that have served as studies, and the running sheets (offset prints) from the production of his artist book from 2010. In total, Studio, Affect relies on an array of images presented in an array of formats — chromogenic prints, silver gelatin prints, laser prints, pigment prints, stencil prints, and offset prints — that are hinged within frames. This decision has to do with a desire for "looseness" in presentation that formally and structurally addresses the political and economic implications of the studio.