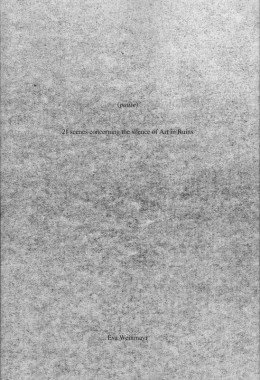 Eva Weinmayr, (pause) 21 scenes concerning the silence of Art in Ruins
Softcover, 72 pp., offset 1/1, 210 x 297 mm
Edition of 500
ISBN 978-0-9562605-4-3
Published by Occasional Papers
$16.00 ·
Why did Art in Ruins, a once prominent art collective, suddenly fall off the art world map? Did they run out of ideas, move on to other territories or simply withdraw in disgust? During brief lulls in their frenetic peregrinations around the glittering international art circuit, a loose group of artists, curators, critics and other art professionals discuss the mysterious disappearance of Art in Ruins, maintaining a sober tone of inquiry even as they encounter herds of bison, anomalous Richard Serra walls and security personnel steeped in art theory. Using actual dialogue from interviews with art professionals who knew Art in Ruins, Eva Weinmayr constructs a hypothetical play as an anti-documentary or anti-biography.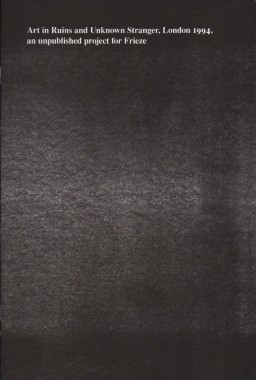 Eva Weinmayr, Art in Ruins and Unknown Stranger, London 1994, an unpublished project for Frieze
Softcover, 16 pp., mimeograph/laser 1/1, 210 x 297 mm
Edition of 300
ISBN 978-0-9562605-2-9
Published by Occasional Papers and FormContent
$8.00 ·
This booklet is published as part of
I Wonder What The Silence is About
, a body of work, speculating on the (temporary?) disappearance of Art In Ruins. This English collaborative art practice was formed in 1984 and created a radical stance towards the art world, based on critical post-modern thinking. They have been for a short period omnipresent in the London/Berlin art scene before they fell silent in 2001. I contacted Art In Ruins and asked for permission to reprint one of their publications as part of my project. This they rejected but suggested to publish this interview instead, which was initially written for
Frieze Magazine
in 1994. It has not been printed until today.
—Eva Weinmayr