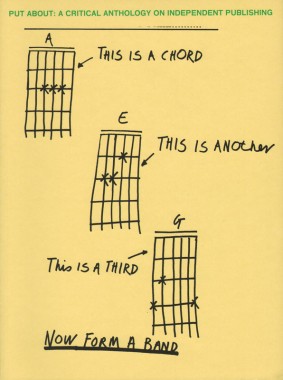 Maria Fusco and Ian Hunt, Put About: A Critical Anthology on Independent Publishing
Softcover, 194 pp., offset 4/1, 190 x 255 mm
Edition of 2000
ISBN: 1-870699-70-X
Published by Book Works
$40.00 · out of stock
Put About: A Critical Anthology on Independent Publishing presents a timely discussion about independent publishing and publishing by artists, focusing on books where the makers keep control of every aspect of production through to distribution. Combining an interest in what and why publishers and artists feel compelled to deliver such materials, together with the economic models, audience and networks of association that can give independent productions a wider cultural presence, this book features a broad range of written and visual pieces alongside 'case-studies' from a selection of contemporary international publishers. Contributors include: John Baldessari, Simon Bedwell, Michael Bracewell, Andrea Brady, Cabinet Magazine, Bonnie Camplin, Maurizio Cattelan, David Dibosa, Matthew Higgs, Stewart Home, Lucy Lippard, Emily King, Gunilla Klingberg, Jakob Kolding, John Miller, Paul D. Miller aka Dj Spooky, Aleksandra Mir, Stéphanie Moisdon, David Osbaldeston, Raymond Pettibon, Lynne Tillman, Nicolas Trembley, and Axel John Wieder.
Jürg Lehni and Alex Rich, Things to Say (Viktor)
Softcover, 16 pp., offset 1/1, 195 x 255 mm
Edition of 1000
ISBN 978-3-905714-70-8
Published by Nieves
$14.00 ·
Before
Viktor
there was
Hektor
, a relatively simple spray-can output device driven by two motors. Invented in collaboration with the engineer Uli Franke, it made its debut as Jürg Lehni's art-school graduation project at the Ecole Cantonale d'Art de Lausanne (ECAL) in 2002 and has performed regularly ever since.
Far from being a closed mechanical device — a black box between creative impulse and output — the concern of Hektor (and now Viktor) is the nuanced interaction between the user and the technologies of communication. The drawing machine Viktor is an amalgam of digital and mechanical technologies. A collage of tools, all of which were invented for other general and specific uses.
In response to the position of such technologies, Lehni together with Alex Rich started an ongoing e-mail correspondence about various devices, systems and technologies with which their work had a resonance. Lehni and Rich constructed an archive, one that they came to call A Recent History of Writing & Drawing and which inspired their installation at the Institute of Contemporary Arts, London (2008).
Upending assumptions that any one kind of communication is more authentic, more direct or more valid that any other, A Recent History of Writing & Drawing finds meaning, texture and poetry in the most unlikely places.
Things to Say (Viktor) is the first in a series of collected drawings produced in collaboration with invited guests to perform with Viktor every Thursday evening at the ICA throughout the duration of the exhibition, curated by Emily King.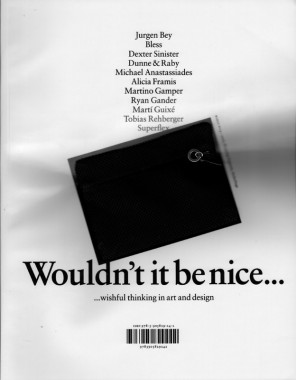 Katya Garcia-Anton and Emily King, Wouldn't it be nice
Softcover, 300 pp., offset 4/1, 232 x 297 mm
Edition of 2000
ISBN 978-3-905829-24-2
Published by JRP|Ringier
$42.00 ·
Contemporary culture is witnessing one of the most significant shifts of recent times. The old dividing lines between artists and designers appear to be dissolving into one another. Indeed the breadth and range of investigation and inspiration they share is possibly the widest to date. This publication
Wouldn't it be nice
hopes to present a series of projects emerging from these lines of dissolution, which reflect the current spirit of cultural production internationally.
The publication includes interviews with Jurgen Bey, Bless, Dexter Sinister, Dunne & Raby and Michael Anastassiades, Alicia Framis, Martino Gamper, Ryan Gander, Martí Guixé, Tobias Rehberger, and Superflex. Fully illustrated, the book presents a number of projects that have been specially commissioned for the exhibition. Quoting the aesthetic of the glossy magazine, the publication is designed by London-based group Graphic Thought Facility, and has attached to each cover a Bless N°14–2000, Shopping Supports Stickerbags self-adhesive purse/multiple.