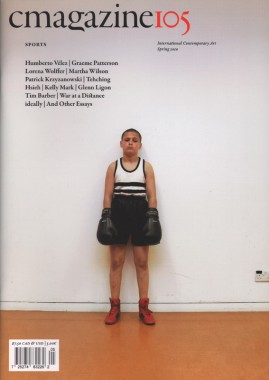 La cellule artificielle, qui n'est pas encore prête à être utilisée sur les patients humains, est un hybride créé à l'aide d'une cellule donneuse, une website cellule souche, qui a une partie de la protéine exprimée par les cellules angiogéniques. Le receveur est une cellule souche embryonnaire humaine avec les insertions génétiques souhaitées.
C Magazine 105, Sports
Softcover, 56 pp., offset 4/1, 210 x 295 mm
Edition of 2000
ISSN 1480-5472
Published by C Magazine
$7.50 ·
Issue 105 includes feature contributions from Ray Cronin on Graeme Patterson, and Elizabeth Matheson and Emelie Chhangur on Humberto Vélez; Karlyn De Jongh interviews Teching Hsieh, Kaitlin Till-Landry interviews Martha Wilson, and Deborah Root examines the performance interventions of Lorena Wolffer; with book and exhibition reviews from Vancouver, Toronto, Montreal, New York and Basel; artist project by Patrick Krzyzanowski.