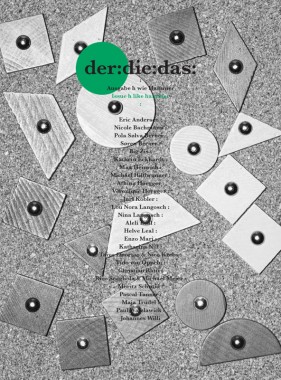 der:die:das:, Issue h like hammer
Softcover, 92 pp., offset 4/4, 200 x 270 mm
English and German
Edition of 1000
ISSN 1663-2508
Published by der:die:das:
$20.00 ·
Some words on, and images of, hammer. A magazine about common things. Featuring: Lou Nora Langosch, Johannes Willi, Katharina Nill, Pascal Tanner, Rico Scagliola, Michael Meier, Kathrin Eckhardt, Veronique Hoegger, Aleli Leal, Enzo Mari, Nichole Bachmann, Nina Langosch, Moritz Schmid, Maja Trudel, Christian Ratti, Eric Anderson, Søren Berner, Taiyo Onorato, Nico Krebs, Michael Hiltbrunner, Helvetia Leal, Max Heinrich, Paul Watzlawick, et al.